Recently a successful entrepreneur and client of ours asked whether he should join LinkedIn and/or Xing to boost visibility and help his business. Here are some of the thoughts and ideas we discussed.
How to do it smarter
==> Put up bio, start connecting – NOT
We recently came across a LinkedIn Discussion started by Gilbert suggesting that everyone should read How to make the most of your LinkedIn presence.
Having read this post, my client said, "I fail to see how this will help our people sell our product to industrial buyers."
I explained that his current and potential clients could find information about him more quickly that way and joining groups discussing issues relevant to his business might be beneficial. But he needed more convincing.
1. Spend less time
==> Dream ON
Tara Donnelly started a LinkedIn Discussion that suggested reading Social Networking in less than one hour per week. Tara suggests just posting in discussion forums regarding one's own blog and products for a while, thereby saving valuable work time.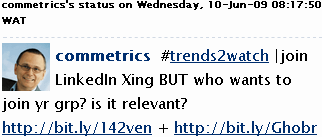 So everything, including blogging, should take no more than one hour every week. This sounds too good to be true and since it fails to work for us, we did not share this insight with our client.
Surely we are not the only ones who spend too much time on LinkedIn or Twitter? Maybe it is better to spend more time with people, since this could result in more fun than tweeting or networking?
2. Getting customers through LinkedIn
==> Are we having a conversation yet – NOT so much
To gain visibility and share our insights we contribute to discussions on groups where we have memberships. This kind of engagement has resulted in feedback and some nice discussions with people that have later test-driven our web-based software for benchmarking their blog(s):
Please register and see your blog improve – it's FREE!
However, this failed to convince our client of the usefulness of LinkedIn and Xing for his company and staff. In fact, he thought engaging in this way would be too time-consuming and insisted that we use more effective ways to get people to purchase more products from his company.
3. Connecting to other people through your network
==> 3 degrees of separation on LinkedIn vs. 1 phone call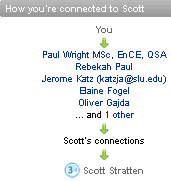 Stanley Milgram's work established that we are all linked by a human web or the proverbial 'six degrees of separation'. But will you ever use one of your LinkedIn network members to reach out to one of her members to, in turn, connect to a potential client? Simply picking up the phone be better and quicker, no?
Our client felt that he would definitely prefer to write a direct email to the person he wanted to contact and then follow-up with a phone call. That would surely be faster and require less time than having to do it through Paul Wright, who would ask Sarah Miller to connect either one of us with Scott Stratten.
More information:
Take-aways
Social relationships depend on proximity – the probability that people know each other is inversely related to the square of the distance between them. Basically, that means that the closer two people live to each other, the more likely the LinkedIn or Xing connection will result in a face-to-face meeting – this is when networking really pays off.
LinkedIn helps build your personal brand – participating in group initiated discussions and getting a reputation as an expert helps… especially if you are in the market for a new job.
LinkedIn can be used as a competitive intelligence tool – joining a group can help you learn things that give you insight instead of hindsight to help you and your company.
Opportunity costs can be substantial – time and resources are limited, hence the question: could time spent using LinkedIn or Xing be spent more effectively talking to customers or writing your eBook? Posing this question and finding an honest and concise answer is key to becoming a more effective user of social networks.
P.S. – Want to get the latest insight on this blog instead of hindsight from someone else? Sign up with your email right now:
Bottom line
Beyond the above, we recommended that our client check and see if his clients are even on LinkedIn or Xing. If he had two important clients using either, he might as well take the plunge by putting up his bio and joining some groups.
Finally, before joining a group you need to understand WHAT you're listening for. Why do you want to listen and what do you want to learn from this group of LinkedIn or Xing members? How will this information help you improve your company's bottom line?
Okay, now we would like to know what advice would you give a CEO of a small- or medium-sized company regarding LinkedIn, and Xing.
We would like to hear your thoughts and insights, and about your experiences: did it work for you? If so, what were your best outcomes?