Commenting on other blogs has been, and continues to be an integral part of blogging. However, the challenge is to get blog comments that add depth and insight to the original post. Better engagement is also fostered if the blogger manages to provide thoughtful replies to commentators. That's all great in theory, but how to put it into practice?
This blog post discusses five steps to writing a high-quality comment and three ways to elicit game-changing comments, outlining some of the obstacles to getting there and why low-level brickbats need not apply.
Recently I came across Why the retweet is a powerful engagement tool
"… This is where the retweet, and now the via feature in Facebook, really come to the fore. They are a very simple way for all people to say "I agree with this" or "I want you to see this too" without actually having to articulate their own opinion from scratch, or start their own discussion…"
I certainly hope social media's value proposition is more than getting people to re-tweet our Facebook or Twitter material. I left a comment:
I am sorry but maybe I am missing something… just re-tweeting as you suggest: "… very simple way for all people to say "I agree with this" or "I want you to see this too." "
Does this add much value to the discussion or debate?
In many cases, people have not taken the time to read carefully the story about which they might send out a tweet (e.g., using Google to feed Twitterfeed that, in turn, triggers your Twitter account to send out a tweet).
So how can I recommend something before having studied the material? Is this a scenario where sheep is following other sheep or my answering machine is talking to yours so we can meet next week?
As a brand, I want to be sure that people support something – my brand – based on product experience, knowledge and insight not just by blindly and wildly re-tweeting other people's opinion or tweets.
Respectfully
Urs
Comments like the above can add some value to the discussion, especially if the blogger writes an insightful response.
Unfortunately, our comment never made it up on Matt Rhodes' blog – whatever the reason, this does not foster engagement (see Take-away section below for a comment about this).
Blog comments: Brickbats need not apply
So why are blog comments important? In 2007 Dave Winer explained why he thought they were in The subject of blog comments. Clay puts it another way in this blog post:
5 steps to a high-quality comment
Unless we are willing to spend 10 minutes drafting a sensible comment, we might provide the blogger a better service by just tweeting the post's title and url on Twitter. But here are five suggestions one should follow to craft a comment that adds value to the equation:
1. Relate your comment to the post: Quality comments refer to the blog post by quoting a portion and then refining or expanding on the thought (e.g., I agree with this point. However, in my line of work…).
2. Have a train of thought: Make sure the comment contains a main theme from beginning to end (Why ROI fails or may work).
3. Wrap-up the comment: A conclusion in a comment is more than, "This is my five cents." Drawing a conclusion makes a fashion statement, so to speak (make a splash – thank you).
4. Tell the blogger why the post helps you work smarter: We all want to write stuff that makes a difference in other people's lives. But please, explain why it is helpful or how you were able to apply it (e.g., don't just tell me I am great, explain why).
5. If you disagree you should explain: Please explain where this disagreement comes from. It might very well be that the blogger forgot to consider an important angle of the problem, made an incorrect assumption or fell prey to misinformation, to mention a few examples (tell me where I have erred and how it can work – I love it).
Finally, please remember leaving a blog comment is like a digital trace and its quality will reflect upon your personal brand and reputation.
Comments mean more work for the blogger – really
When I write a comment on someone's blog, this quickly takes more than 15 minutes, especially if a conversation develops. Commenting is far more time-intensive than writing a tweet or re-tweeting. Of course, both are needed: one to spread the news and the other to add more depth to the post.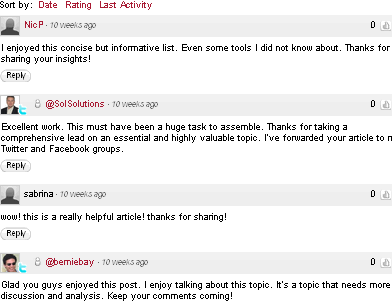 Unfortunately, one will often come across comments that seem somewhat shallow or where the commenter had little time. Other times it seems to be 'feel good' feedback.
The comments to the right surely made Bernie feel good. Unfortunately, they do not add content or substance to the discussion of an important topic. On the positive side, writing this kind of feedback did not take the commentators more than one to two minutes.
But the blogger does not really raise the performance bar either. His comment (see last one in screenshot) provides a pat on the back for each of the three commentators above.
The 'I am great – You are great' approach is fine and makes sure nobody is offended, but it also does not move the discussion to a higher plateau.
All things being equal (ignoring how much traffic the blog has, language it is in and country, etc.), there are three things that affect your comment count:
1. Write a blog post that is interesting to many people, such as 'Calculating ROI for social media activities'.
2. Keep your blog post short (under 300 words), and
3. Don't try to be too in-depth.
Guaranteed, with a short post you will always get the type of visitor willing to spend another 60 seconds to add their two cents by leaving a comment.
The challenge is that complex subjects like calculus can hardly be explained in under 300 words. We can try and people might even believe they have grasped the concept, but if we were to put it to a test, 80 percent would likely fail. In turn, addressing a complex matter in 1,600 words as done here may turn some people off, since they might feel that it takes too much time to read and comprehend the issue discussed.
More resources about the importance of quality comments
Bottom line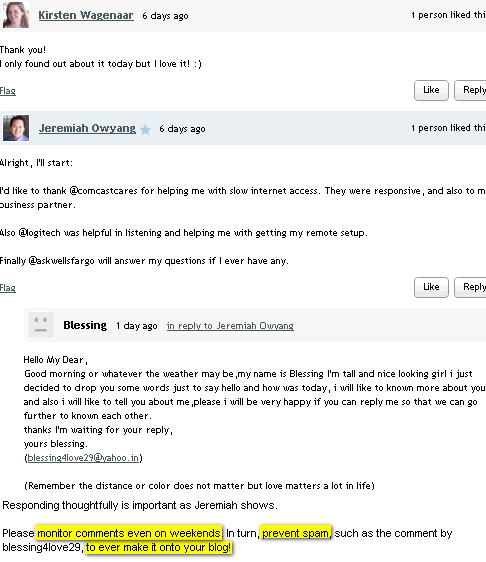 While tweeting about something does not take much time, writing a blog comment that adds value to the discussion does. Lastly, thoughtfully responding to comments is time-consuming for the blogger.
Building on your audience's comments is a real challenge that few, like Jeremiah, manage. He tries to add value to each comment whenever possible and/or steer subsequent comments in the right direction.
However, it is probably better to approve each comment or reply before it goes up on the blog. If one fails to do this, then what happened to Jeremiah can happen to you, too. A spammer replied to several comments made on the blog (one shown to the right) and this, of course, does not foster your all-important reader engagement.
Take-aways
I have been blogging for a while and developed the following three insights that I would like to share with you:
1. Quality attracts quality: It is perfectly okay to ask somebody you know to comment, if you are quite certain they will add substance. Even better if the person brings a different viewpoint. Our data shows that getting a high quality first comment usually attracts other quality comments and, most importantly, those afraid of going first have this hurdle removed…
2. Being humble pays off: Try to acknowledge each commenter. Make sure that you add beef with your reply to their comment. Writing something like the comment below is okay but is this person taking her commentators seriously?
"Thanks @Laya, @Andrew, @Laura  Thanks for your comments on the same.  Looking forward to your views / comments in the near future too."
A response like that lacks depth and makes you wonder if the blogger cares… please take your readers seriously.
3. Fostering engagement means letting nothing fall between the cracks: Make sure no comment is inadvertently lost in your spam box; check it daily. Also, both negative and positive comments must go up on your blog. Otherwise you throttle engagement, even while talking about it.
Finally, as Jeremiah's example shows, monitoring the many comments he gets takes time, and therefore suggests all comments should be pre-approved before going up. Nobody wants spam to end up in a set of otherwise nice comments.
Please, leave a comment! We love to hear your thoughts: how do you feel about managing blog content and encouraging greater engagement for your blog? What is your experience with this subject? Have any tips to make sure we use the commenting feature more effectively? Please share your insights.
P.S. – Visit My.ComMetrics (register yourself – benchmark your blog(s) => improve performance). You can get updates for this blog on Twitter by following @ComMetrics or get a free subscription by RSS, or get new posts via email:
Article source: ComMetrics – Engaging comments: Where is the beef?
Some of you may remember the Wendy's TV commercial in the US in which Clara Peller (August 4, 1902 – August 11, 1987 – lived in the Chicago area) posed an important question about the golden arches' burger: Where is the beef?
Next time we write a comment or reply to one, let us all remember – adding substance is key.