The ups and downs, ins and outs of corporate blogging at a Fortune 500 corporation prove that just following the example of others and embarking on a social media experiment will not save the day. This case demonstrates that when the going gets tough, the tough take action or failure is just around the corner.

The previously published case studies listed below help to illustrate social media practices, both good and bad.
Volvo, China Mobile, Nike, Starbucks, Apple, ABB, Swisscom and more: case studies about corporate blogs
Before you start a corporate blog, tie your shoe laces properly
Happy birthday Daimler: a blog that rocks
Case study: Beck's beer – does humor translate?

In the past we discussed different approaches by FT Global 500 corporations in managing social media campaigns and blogs in particular. For instance, American Express chose to pay journalists to write specifically for its branded platform Open Forum while the Royal Bank of Canada pays students to blog for students.
Beck's beer chose a British comedian to bring its message to 18- to 25-year-old males in the US. Today we focus on the HSBC Business Specialist's Blog within The HSBC Business Network.
HSBC's Business Network aims to help expand start-ups' networks, as well as offer them the expertise and support of the bank's business specialists across the UK. Supposedly the community's purpose was, and still is, to guide new businesses through writing a business plan, researching the market, developing sales strategies and marketing plans (including on the web), mastering tax and employment law as well as franchising.
So how is HSBC's social community doing on the Web in general and on its HSBC Business Specialist's Blog in particular? I went ahead and began assessing this venture by using the four criteria that characterize an organizational blog. Based on these, HSBC clearly qualifies.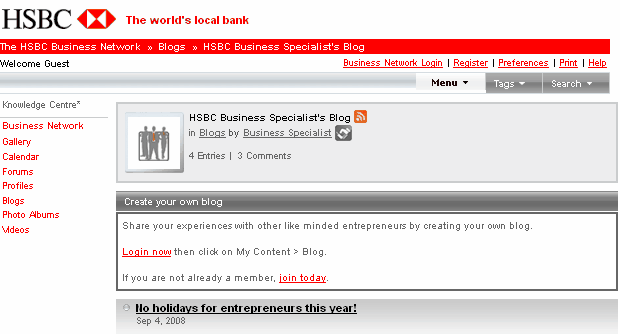 Unfortunately, data assessed according to the vibrancy indicator demonstrate a distinct lack (e.g., last post more than 15 weeks ago). I also went ahead and used the conversation or broadcast index and found only a few comments by readers.
Finally, to get full access to the blog or the community you must register yourself. This is unfortunate since it seems completely unnecessary. In fact, if the content and services provided by the platform are convincing, HSBC's small business owners – the platform's primary target group – will subscribe to receive content and other material via e-mail and so forth.
Evaluation
The content of HSBC Business Specialist's Blog comes from UK branches' small business experts offering their opinions on various topical issues. Since September, however, nothing new has been posted and the last three posts are dated June 20, August 21 and September 4.
This is a common characteristic throughout the site. HSBC hired LiveWorld to develop and implement this community in partnership with communications agency Mindshare. While these experts have managed to get a few people (HSBC customers that is) to start their own blogs on this platform, regular posting of valuable material seems to be the exception and not the norm.
To get people to continue engaging and regularly contribute to the virtual community, however, subscribers need to believe that the end result is worth the effort. Accordingly, unless valuable content is posted regularly, people are unlikely to be convinced that it is worth their time to contribute and participate in this virtual community.
For a final quantitative check I used our tools on My.ComMetrics.com. Google PageRank gives the site a three; while this is not bad, the site has been stagnant at this level since it was launched earlier this year – maybe another indicator that things are not going that well.
Bottom line
Launching a community for your target customers is one thing, but coming up short in terms of impact is another. If you do something, do it right and consult with the experts, in this case social media gurus. The HSBC case provides us with the following lessons from the digital frontier for ensuring reader involvement.
1. Assure regular (i.e. at least every two weeks) posting to the blog of relevant and new content for your target audience (in this case, small businesses); and,

2. Make sure that people actively engage with the blog (i.e. invite them to participate and provide feedback by leaving comments on each blog post).

Beyond the above, creating an online community that benefits from participants' more active engagement may also necessitate support in the form of:
1. possibly organizing offline events that bring online members together (i.e. facilitating and enhancing networking); and,

2. special offers that help members with their business (i.e. giving members-only access to various things like implementation checklists [for example, five ropes to skip when preparing your loan application or ten things you must check to implement your marketing plan smartly] and so forth).

Hence, HSBC's virtual platform for small business has not proven to have an enduring appeal for the bank's target audience (small business clients in the UK); however, not all is lost. By taking the above steps, the bank can demonstrate that it has still got a winning touch in social media.
HSBC must clearly demonstrate to its target audience that engaging with its platform helps small business owners improve their bottom line. Without the changes suggested above, however, involvement by its target customers will continue to be lackluster.
=========>
Here's what I'm suggesting for today. Add your comment to this post. What is your experience; are you using this or similar communities; do they help your business' bottom line? Please provide your thoughts and insights! Thanks.
=========>
Why not follow me on Twitter.

=========>

MyComMetrics Twitterfeed for http://My.ComMetrics.com = benchmarking your blog or Twitterfeed – count what matters – change what counts #tools2watch