Crowdsourcing ranges from writing open-source software to redesigning a webpage. But as popular is it is, it does not always work as planned: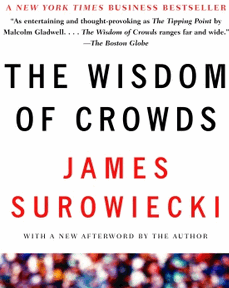 Quora has been compared to a higher level of customer engagement, while others feel that it is just another time-waster; maybe we should have called this post, "Why not to use Quora."
We discuss three observations that could help you save time and take better advantage of services such as Quora or Aardvark.
Article source – ComMetrics weekly review: 3 steps to a better Quora experience

1. What do Quora, Aardvark and Wikipedia have in common?
All these sites thrive as long as users are willing to put effort into participating and contributing without payment. Labor is what we do at work, while these are labors of love.
Some suggest that Quora can strengthen customer experiences, allow you to research the competition, connect with journalists, expand your network, establish expertise, etc.
Get our next post first; enter your email below, you will be glad you did.
2. What motivates people to participate in crowdsourcing?
Conventional wisdom has it that open-source programmers do everything out of love, but a recent study shows that things are far more complex (see Lerner, J, & Schankerman, M. (Sept. 2010). The Comingled Code. Open source and economic development: Boston MA: MIT Press).
Open-source software is not free, but it has become part of the technology landscape. For instance, WordPress is the most popular open-source software for bloggers, but most companies pay for internal or external management, including upgrades, add-ons, ghost writing and so forth.
But what is the motivation to contribute to Quora or Aardvark? Social media guru Francisco Rosales – who was instrumental in designing this blog – says, "Quora is about building your personal brand."
Many companies happily mingle both proprietary and open-source software. Similarly, by participating in Quora, experts build their corporate and personal brands and reputations, and hopefully get some answers.
Resource: Quo Vadis Quora
3. So why not join Quora?
Like Aardvark (acquired by Google Feb. 2010), Quora is another Q&A web destination, but Quora provides more in-depth answer than Aardvark. But like Xing, the latter is better for answers to more straightforward questions.
These sites come and go, along with others like Logly.me, which helps me find the best stylist in my neck of the woods.
Nevertheless, Quora's growing popularity will make it a challenge to maintain quality across Q&A threads (Scoble on Quora – well…). Similar to Wikipedia, Quora may have to face the fact that some editors can become benevolent dictators.
Keeping participation levels up is also a challenge. For instance, the number of regular contributors to Wikipedia's English-language encyclopedia dropped to 35,000 in September 2010 from its March 2007 peak of around 54,000.
Resource: Suh, B., & Convertino, G. (October, 2009). The singularity is not near: Slowing growth of Wikipedia. WikiSym '09 Proceedings of the 5th International Symposium on Wikis and Open Collaboration. New York, NY: ACM
I almost forgot; in case you want to connect with me, here is my Quora Profile.
Bottom line and take-aways
Some suggest that the most interesting things on Quora are the senior people from public companies or start-ups who share information and tips. But this does not make having top management join a necessity… and by the way, Quora removes corporate accounts.
Like Facebook or Twitter, Quora has its uses for individuals: it is another opportunity to get answers and share wisdom.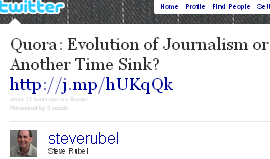 Only time will tell if the effort spent on Quora, in addition to everywhere else (e.g., Facebook, Twitter, corporate blog), is worth the opportunity costs. Friendfeed most certainly was not, in spite of some social media gurus like Robert Scoble saying otherwise during WEF Davos 2009. Remember that?
Quora is like a 1980 discussion board, but with more whistles and a better user-interface. If you can spare the time, have a look. In the meantime, before frittering away more time on Quora, why not play with your kid(s), and for goodness sake, clinch that next sale instead!
Resource: All roads lead to Wikipedia – great URLs about Wikipedia resources available at bottom of blog post.
If you like this post, please share it with your friends. How about asking them to comment after reading; I love to hear what people think!
Are you with me on these trends? Has your time on Quora taken time away from Facebook and Twitter? Are you answering questions on Quora while riding a train or watching TV? What do you think? Please leave a comment; the floor is yours!