In a recent interview Pakistan's president Asif Ali Zardari warned that it could take his country more than three years to rehabilitate after the floods. Data indicates that
– 20 to 25 percent of the country is now under water;
– 20 million people have been affected;
– 6 million have lost their homes;
– 8 million need food supplies;
– 3.5 million children are in imminent danger of contracting cholera and diarrhea; and
– approximately 2000 people have already died in the floods.
Based on these numbers, the UN has concluded that the Pakistan disaster is "worse than the 2004 tsunami."
Last week I also came across information from the Social Media Grows Up – American Red Cross Emergency Social Data Summit, so this post focuses on public disaster response and how social media can be used to help victims during a natural or man-made catastrophe.
But first, sign up with your email to be among the first to get our next blog post.
The US Federal Emergency Management Agency (FEMA) defines emergency management as follows:
'Organized analysis, planning, decision-making, and assignment of available resources to mitigate (lessen the effect of or prevent), prepare for, respond to, and recover from the effects of all hazards. The goal of emergency management is to save lives, prevent injuries, and protect property and the environment if an emergency occurs." (FEMA, Introduction to Emergency Management Course, 1995, p. 1 – 6.)
2. Improving information and data analysis
The American Red Cross – Emergency Social Data Summit addressed the role social media might play in cases of emergency, such as Hurricane Katrina. The organization also used the event to release findings from an important study.
Variations in use of online communities and social networks:
– respondents with children in the household are more likely to use social media (81 percent vs. 67 percent for those without children in the household);
– college graduates are more likely to use social media (78 percent vs. 67 percent for those with some college or less);
– 89 percent of respondents aged 18‐34 use online communities or social networks compared to 65 percent of those aged 35 and older.
The survey was conducted during July 2010 with 1,058 respondents representative of the US population aged 18 and older. Data also indicate that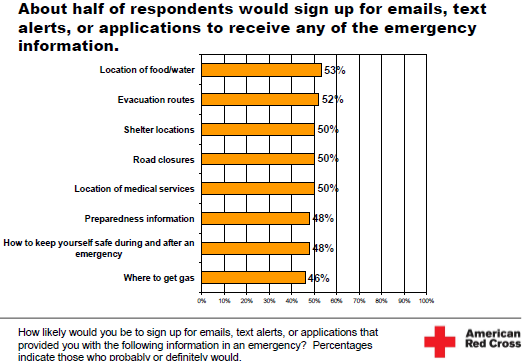 You can download the 19-page presentation as a pdf file or view it here:
The recent summit and study data (see above slides) indicate that in the US, the public would like response agencies to provide information via Facebook, blogs, micro-blogging services and their websites for
a) those in the disaster zone, specifically critical information updates, such as where to get help, and
b) those concerned about relatives or friends directly affected by the event.
Unfortunately, during larger disasters such as Pakistan or Haiti, two things could happen:
a) telecommunications networks may crash and stay inoperable; and
b) power may be unavailable for extended periods of time.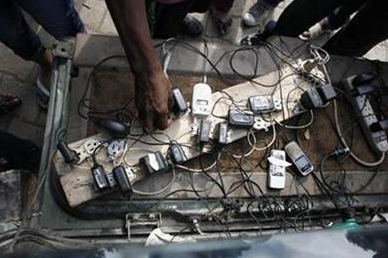 In Port-au-Prince, just after January's 7.0 magnitude quake, some enterprising people used their diesel generators to recharge other people's phones – for a fee. But since the necessary infrastructure was also severely damaged, there was no coverage even after your phone had power.
As Haiti's earthquake and Pakistan's flood illustrate, during a disaster of such proportions only a battery-powered radio might work. Have you got one? I don't.
While response agencies can use social media, it is pretty much useless to the victims unless they have both the necessary hardware and the required power to access a functioning network. Too many ifs.
Bottom line
The human tragedy unfolding in Pakistan demands our undivided attention. Unfortunately, this is not happening since news coverage has already become halfhearted and the worst is yet to come.
Even before the disaster, Pakistan was dealing with energy shortages, uncertain water supplies, and widespread poverty. The disaster brought upon the country through torrential rains has resulted in the worst floods in 80 years.
Surely, those hurt by the disaster see no more positive ways social media can make an immediate difference to their lives than I do (see statistics above). If a flood hits, you run for the hills and/or bring your family and valuables to safety. Who has the time and energy to tweet about this? Certainly not the sane!
Take-aways
1. Failing communications infrastructure: unless base stations and other vital components of the system are built above potential flood lines or strong enough to withstand a flood or remain standing after the earthquake, those harmed by the disaster will be unable to send or receive information using the Internet and social media.

2. Non-functioning electricity grid: in some countries base stations will continue to provide mobile coverage if their diesel generators can be kept running (e.g., Ghana). In other places, as illustrated in Pakistan, the electricity grid may no longer be capable of providing the necessary power. At best, mobile communication will be available in some spots, at worst it will not work anywhere.

3. Social media fails to connect with victims: social media (SM) will increasingly facilitate emergency agencies' efforts to receive data and communicate information to the country or world. However, in large scale disasters, it is unlikely that victims will be able to receive information and send data through social media channels.
Resources
Article source: Social media's failed acid test: Pakistan disaster response
Please share your comments below; I am very interested to hear how you see social media's benefits in case of a disaster.
The flood in Pakistan is as long as the Mississippi river (video courtesy of US Department of Defense):