We started a series entitled, Social Media DOs and DON'Ts, which provides checklists, tips and tricks to help you leverage your social media skills even better.
Today we focus on a social media checklist with two functions:
a) leading you step-by-step through the set-up process, AND
b) developing methods to track your success.
While social media has gone mainstream, quite a few companies continue to struggle with achieving effective engagement. This post addresses the social media DOs and DON'Ts for companies that want to keep up with their engaged community.
But first, sign up with your email to be among the first to get our next blog post.
How to effectively use social media to achieve desirable results
The following tips help organizations use social media smartly as part of their business strategy.
Having the right supplies along on a long trip, such as biking across the Sahara, is critical to making the journey successful. Hence, most adventurers use checklists evolved over years.
Using those checklists reduces the risk of taking the wrong things along.
This ComMetrics social media checklist is a working document and will change over time. The following points must be addressed if social media is to be used with any success.
"Why social media and what is its purpose?" (Remember, selling books is not the same as looking for the next engineering contract.)
If this is written down and agreed upon by stakeholders (e.g., management, board and investors), the necessary resources can be put in place (see also point 12).
Resource: ComMetrics – It is all about your target audience
2. Develop a social media policy
People must know which behaviors best protect the company's and their own interests.
Resource: ComMetrics – Social media policy DOs and DON'Ts: 8 essentials
3. Share the policy with your organization
Build internal brand champions by establishing a participatory culture.
Resource: ComMetrics – Authenticity is key
4. Decide which platforms
There are too many platforms to participate in all of them, but the company will probably want to use different platforms for different stakeholders such as clients, employees or shareholders (e.g., have different Twitter feeds for each group).
Resource: ComMetrics – Start right
5. Start with one social platform first
For instance, start with the corporate blog and then try Twitter or Facebook and use each step to gain experience and build confidence with social media. After all, we must learn to crawl before attempting to walk.
Resource: ComMetrics – 4 tips for successful tweeting
6. Decide who will manage what
Who from your organization, such as a community or social media manager, will manage information and direct continuous conversations and relationships?
Resource: ComMetrics – It is a team effort – or else…
7. Management participation required
Discuss with management which executives will participate in the program and determine their time commitment (e.g., one 600-word blog post, including links to more in-depth material, every three weeks).
Resource: ComMetrics – Why management sometimes does not get it
8. Set up Key Performance Indicators (KPIs)
KPIs require actionable metrics that predetermine what must be monitored (via free tools and paid software). Also ensure that you know whether the trend line is moving in the desired direction.
Resource: ComMetrics – KPI experts' top five secrets
9. Monitor social media usage
How the organization uses the information should be monitored. This allows the company to gain more insight and feedback from communities, customers, and leading users.
This feedback and how it affects product development and enhances customer service should also be monitored.
Resource: ComMetrics – Social media DOs and DON'Ts: 8 pivotal tips
10. Be ready for the unexpected
Have a plan for any public relations disaster, outlining who will do what, how and when.
Consider that a global reaction force may be required to monitor Russian, German, French, Japanese and other online social networks (OSNs). Preparing for the crisis will enable more effective event management.
Resource: ComMetrics – Social media DO's and DON'Ts: 5 hints for successful crisis-management
11. Prepare for things to go wrong
Failure to plan is planning to fail. Often things do not go according to plan and all one can do is prevent them from getting much worse. Having an emergency plan in place reduces the risk of experiencing a true disaster.
Resource: ComMetrics – Social media DO's and DON'Ts: 6 remedies for any emergency
Create and check your budget and resources before, during and after every quarter. Just like anything else, high-level social media performance requires resources.
Resource: ComMetrics – Measuring ROI: why it fails
Bottom line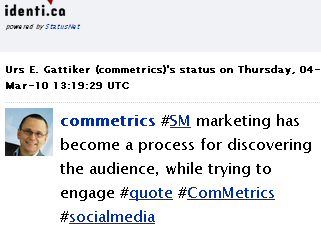 If the company follows the above DOs and DON'Ts, a level of savvy and understanding can be attained that allows the effective use of this technology to leverage your brand.
Have an opinion on this? Did we forget a DO or DON'T for social media that you know about? Please share in the comments; I love to hear what works for you!
Article source: ComMetrics – Social media checklist: 12 crucial DOs