The current civil unrest in Iran has resulted in some discussion about how social media – specifically Twitter – may have influenced events.
Unfortunately, most of the information on Twitter cannot be easily verified as far as the election and its consequences are concerned. And while some news people use Twitter, others are prevented by their employers from doing so.
Bloomberg and the Wall Street Journal
Recently we learned that Bloomberg issued a code of conduct that makes it quite difficult to refer to other sources such as blogs, microblogs or even research labs, as quoted below:
"Our code of ethics says the news staff may not publish Web sites, blogs or other online journals that discuss companies, people or topics covered by Bloomberg News; discuss or disclose internal policies, management or newsgathering decisions; direct Internet traffic to media competitors or discuss them; or imply an endorsement or association with Bloomberg news."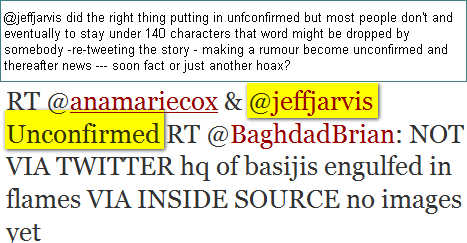 The above means Bloomberg does not want its paying subscribers to know that not all news is researched and written up in-house.
But the Wall Street Journal does not do much better. Their code of conduct includes such things as:
"-  … Let our coverage speak for itself, and don't detail how an article was reported, written or edited…
–  Business and pleasure should not be mixed on services like Twitter. Common sense should prevail, but if you are in doubt about the appropriateness of a Tweet or posting, discuss it with your editor before sending…"
Wall Street Journal – Code of Conduct – Twitter – Naijapulse
Like Bloomberg, the Wall Street Journal does not want its staff to attribute news to other sources. Furthermore, asking journalists not to tweet work-related stuff seems to indicate that management has yet to discover, accept and embrace the using of Web 2.0 technology. However, while we can demand that staff not use mobile phones or tweet during internal meetings, they will continue to microblog while commuting to and from work, with or without persmission.
How to check Twitter news sources
Regardless if one wants journalists to use Twitter or not, this is a trend that cannot be stopped by publishers. Nevertheless, the last couple of weeks illustrate that when it comes to making sure one's source(s) can be trusted, journalists and those tweeting should follow similar procedures for fact checking as illustrated in the table below: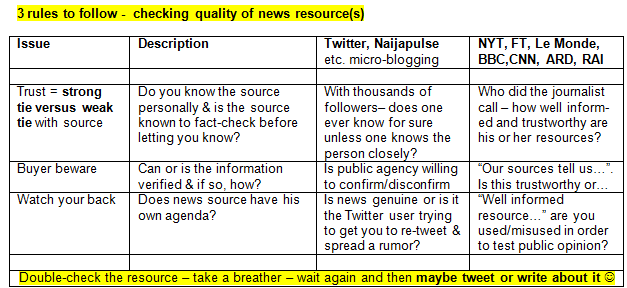 The above indicates that quality reporting or tweeting follows certain procedures to reduce the risk for reporting incorrect information or passing on hoaxes.
As a paying subscriber to online and print news, I appreciate and expect fact-checking by journalists. Both Twitter users and journalists have to carefully vet the feeds they get and make sure they do not redistribute rumors or misinformation (see table above). But the issue here is neither Twitter nor Iran.
Specifically, in the case of journalists, following a proper code of conduct means giving the original source of news due credit. To illustrate, does Bloomberg staff writing news copy by simply taking material from a press release, including the quotes, represent investigative reporting? Instead, subscribers to online, TV or print news deserve and demand getting a reference to the original source of the story (e.g., research study).This is what quality journalism does: discover the gems, study the material, write about it and let the reader or viewer make the final decision by facilitating access to the source with a hyperlink. It's just that easy with Web 2.0 technology and not too much to ask, all things considered.
Of course, if one took it all from a press release… not sure if that is quality journalism… and while I may have to accept this from a freesheet (e.g., Metro, 20 minutes, thelondonpaper, etc.) the increasing tendency of major newspapers re-writing press releases and publishing it as editorial content or not doing proper fact checking (e.g., last weekend the Wall Street Journal's wrongful report claiming Siemens/Nokia Networks technology helped the Iranian government to censor the Internet) does not  increase my trust in editorial content.
Regarding Twitter and the situation in Iran, I tried to find Twitterers or Tweeters located in Iran:
RT @ComMetrics do you know of a person tweeting from Iran – D message me … Thanks for the help #iranelection #iranvote
All those that chose to contact me did so by phone or encrypted e-mail and assured me that they had chosen not to tweet about current events to protect themselves and their families…
Actionable metrics anyone?
The only actionable metric we are interested in here is if the extensive use of Twitter, YouTube or Flickr has helped Iranians better protect and fight for their human rights. If not, what can or is being done about it.
The Wall Street Journal claimed that Siemens/Nokia Networks sold the Iranian government technology to monitor networks, which the firm denies. What we do know is that some foreign TV satellites were jammed, sending and receiving SMS messages was blocked and Internet access was curtailed.
Hardliner Mahmoud Ahmadi-Nejad – who claims the Holocaust never happened – will remain president of Iran for another four years. Iran's supreme leader, Ayatollah Ali Khamenei is unwilling to have the election repeated and Mir-Hossein Moussavi's efforts to form a political front are being stymied.
These are the metrics that matter
So, in conclusion, there has been lots of tweeting. Unfortunately, even the gruesome footage of Neda Salehi Agh-Soltan – Iran's 'Angel of Freedom' – a 27-year old philosophy student, bleeding to death on a Teheran street immediately after she was shot in the chest has not changed the government's belief that the election itself was an expression of Iran's advanced democracy.
Okay, now it's your turn. Would you have addressed any of these challenges differently? Did I miss something? Do you agree, disagree? Shout with joy or cry with pleasure, but please share your thoughts. Thank you.