The original story is below, while details about the updates can be found at the bottom.
Update 2012-09-29: Research of the Egyptian uprising and other significant events indicates that 30 percent of recorded history, as recorded on Twitter, is vanishing, i.e. tweets are no archived anywhere for posterity.
Update 2011-02-03: The OECD estimates that the Egyptian government's blocking of Internet services for five days is likely to have cost the country US$90mioand a loss of 3-4 percent of GDP each day.
Update 2011-02-01: Google and Twitter work together to offer a speak-to-tweet service to Egyptians  – great example for how to use a political situation to build your company's reputation and image on the back of other people's suffering(s).
This week once again offered a demonstration of true revolutionaries at work in Tunisia, where they forced Zine El Abidine Ben Ali from power, and Egypt, where demands for Mubarak to step down continue. Unfortunately, neither Twitter nor Facebook updates accomplished more than amplifying a hopeful echo around the world.
Blogging, micro-blogging and other social media are coming of age, but have they influenced these political protests? Is it true that Russians and President Medvedev found out about the carnage at Domodedovo Airport in Moscow through Twitter, as reported in the Financial Times?
ComMetrics weekly review: Gunfire in Cairo: What it means for Twitter
Make sure you get the next blog post first in your inbox, sign up below, you'll be glad you did:
Moscow bombings – the Financial Times loves social media BUT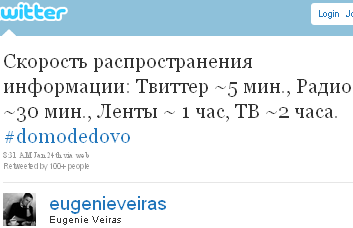 This tweet was noted by the Financial Times as representing a situation in which Twitter is the best way to spread news among Russians.
The article also states that @Iplantov tweeted, "Medvedev, found out from Twitter what was going out at Demodedovo and prepared an electronic message."
Besides the fact that we were unable to find that tweet, did President Dmitry Medvedev really get such bad news through Twitter? Unless Ms Weaver checked with his office, why would she pass on such information? Most importantly, if it is true, we should all be seriously worried: can Mr Medvedev really take the time out of his day to scan his Twitter feed?
I would have thought his intel services informed him of the event within minutes of the bomb's detonation. He certainly was not checking his feed while giving a speech at this week's Wolrd Economic Forum (WEF) in Davos.
Did I miss something? Inquiring minds want to know, so please leave a comment!
This latest episode brings to mind
The age of trivial minds
that forget to double-check their news source(s) before touting what they consider news that is fit to print, and
The inflation of Twitter's importance
as an information source in case of a political crisis or terrorist attack. The past is repeating itself one again – think Iran.
By the way, can you trust the information you get via social networks (see why Twitter was unimportant during the Iran election)?
Just as building trust as a blogger journalist, newspaper and/or brand takes lots of time, that trust is also fragile and can easily be destroyed by failure to check facts or confirm a source:
Customer relationship management
Bloggers: Can I trust you?Egypt and Tunisia: Twitter and al-Jazeera
As previously mentioned, Twitter's role in the Iranian protests was as fleeting as a retweet itself. When Iranian authorities clamped down on the 60 or so tweeters in Iran, the number dropped to six.
The Egyptian government decided not to risk even that and just cut off internet traffic (see below).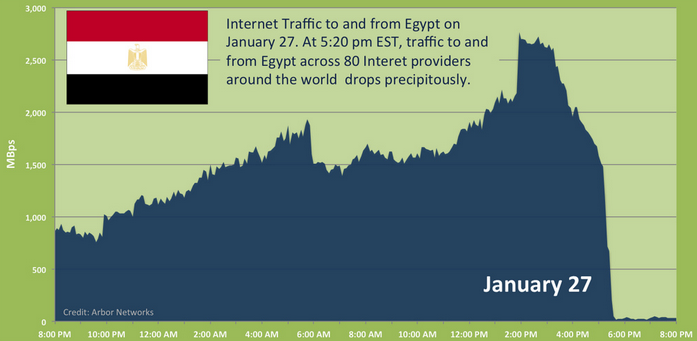 Another interesting thing we discovered during this week's Middle East turmoil was al-Jazeera's obviously careful consideration of Qatar's own diplomatic agenda before lashing out. Coverage of Tuesday's 'day of rage' was relatively moderate, compared with coverage of the revolt in Tunisia. And while the station reported little about the Egyptian crackdown against protesters and Mubarak's struggle stay in power, the station was busy campaigning against the Palestinian Authority.
Bottom line – takeaways
The Internet once again showed its prowess at spreading news and images that may help the world feel connected, but in the larger scheme of things it was probably quite unimportant to those directly affected this week.
By Friday, pressure from citizen journalists, bloggers and social media pundits forced al-Jazeera to return to its old form while reporting about Egypt's streets. This clearly illustrates three things:
Protests happen with or without Twitter
telecoms blackout
may have stopped mobile communications, but it
failed to stop
the release of years of pent-up anger in Egypt's streets.
al-Jazeera DOES have an agenda – activists beware
al-Jazeera's reporting with a grain of salt
, since the station submits to Qatari rulers' political interests, AND
Social media rarely matters during a civil uprising
: social networks are not all pervasive and
political change remains difficult
to accomplish, with or without Twitter.
If you like this post, please share it with your friends. How about asking them to comment after reading; I love to hear what people think!
UPDATES
Update 2012-09-29:
A news study of the Egyptian uprising and other major events reveals that almost almost 30 percent of recorded history, shared over social media such as Twitter, has disapeared.
A significant proportion of the websites that this social media points to (rememeber, the URLs people enclose in tweets – many are no longer online) has disappeared. And the same pattern occurs for other culturally significant events, such as the the H1N1 virus outbreak, Michael Jackson's death and the Syrian uprising.
Research shows that within:
1 year – 11 percent of the social media content had disappeared
2 years – 27 percent has disappeared
Download the paper for free here:
Update 2011-02-03:  The blocking of the Internet for five days (i.e. until Tuesday this week) is likely to have cost the country US$ 90 mio, according to preliminary OECD estimates. The blocked services (telecommunication & Internet) account for roughly three to four percent of GDP or a loss of US$ 18 mio per day.
The OECD warns that this has cut off  domestic and international high-tech firms who provide services globally. This will make it tougher to sell Egypt as a place to outsource labor intensive work.  Political unrest in Egypt is a major reason, according to Keith McLoughlin, Electrolux CEO, why the company has put on hold a $480 mio deal to buy a controlling stake in Cairo-based Olympic Group, the biggest home appliance maker in the Middle East and North Africa.
Update 2011-02-01: Google and Twitter launch PR stunt = speak-to-tweet service. Twitter access and mobile networks remain cut off in Egypt.
Hence, Google Inc launched a speak-to-tweet  service to allow people in Egypt to send Twitter messages.
All they have to do is dialing  one of three phone numbers leaving a voicemail:
– +16504194196 = number in the USA
– +390662207294 = number in Italy, AND
– +97316199855 = a number in Bahrain
You can listen to the tweets by calling the above numbers or else visiting http://twitter.com/speak2tweet
What does this mean?
Google, whose corporate motto is "Don't Be Evil," is not taking sides in the crisis in Egypt. Nevertheless, Google and Twitter are using this situation for creating goodwill in the West and possibly some Arab countries by appearing to do something for the people on the street.
These efforts are laudable and help those outside of Egypt to keep abreast of the latest developments. For instance, YouTube has been streaming live coverage of Al Jazeera's broadcasts of the events in Egypt – although as shown above – Al Jazeera has its own agenda…..
Unfortunately, because the Internet as well as mobile networks are blocked in Egypt, these information sources cannot be used by those protesting on Egyptian streets.
And that dozens of the so-called speak-to-tweet messages were and continue to be featured on Twitter are not a reflection of true revolutionaries at work. It merely amplifies a hopeful echo chamber in the west.
Are you with me on these trends? Will Twitter and YouTube  help change things in Egypt for the better? What do you think? Please leave a comment; the floor is yours!