Sports marketing is serious business and an analysis of European clubs' 2010 season accounts shows Real Madrid's total revenues rose from €401 million to €439 million, making them the game's top revenue earner for the sixth year running (Football Money League 2011 – the untouchables).
This week also marked a shocking verdict from an EU court that could severely curtail future revenues from European TV rights in coming years. Exacerbating this challenge is the fact that starting next year, top clubs seeking to compete in European competitions must meet the UEFA Club Licensing and Financial Fair Play Regulations (see Saturday).
But first, we start with the case of a social media policy that does almost everything wrong.
Commonwealth Bank of Australia's (CBA) social media policy a bust
An Australian bank has warned its employees of disciplinary action, including dismissal, if any one of them fails to report criticism of the bank by others on social media channels, including Facebook.
Commonwealth Bank's employees have been directed to immediately notify their manager if they come across any "…inappropriate or disparaging content and information stored or posted by others… [in a] …social media environment," including non-employees.
The policy highlights the fact that Australian businesses do have the authority to request employees report knowledge of derogatory comments, though they may not have the power to request their deletion.
The Commonwealth Bank was soon forced to rethink its social media policy; download it here (courtesy of one of our contacts):
Why not get our blog post first in your email inbox? Enter your address below, you'll be glad you did:
EU court shocks Premier League football
Pub landlady Karen Murphy has been fighting a copyright fine of £8,000 received four years ago for breaching UK copyright law by showing English Premier League games using an imported satellite card from Greek satellite broadcaster Nova.
Advocate Juliane Kokott of the European Court of Justice has published an opinion siding in favor of Ms Murphy, who appealed her conviction. Kokott's non-binding opinion suggests that the 20 football clubs in the Premier League cannot hope that broadcasters will be able to stop customers from using cheaper foreign satellite TV services to watch games – as Ms Murphy did for her pub – since this would breach EU laws.
However, if the court agrees, it will reduce the Premier League's European television rights value derived by dealing with each country individually. Such a decision would likely force the league to sell a pan-European package of rights to a single broadcaster, a situation that would likely create a competitive auction between broadcasters such as BSkyB and ESPN, the US broadcaster trying to make inroads in the European television sports rights market.
The current three-year UK TV rights contract is worth £1.8 billion, not a paltry sum.
View BBC 5's live October 2010 interview with Karen Murphy on why she took her fight to Europe.
Social networking: Who has the time, YOU!?
Lastly, I just recently came across the statistics below. While I feel good about our performance on Xing through our Social Media Monitoring group, I am a bit disenchanted with many people's low participation levels. For instance, today I got an email along the lines of:
"…I have trouble keeping up with my own blog, LinkedIn, Twitter and my FB page! I wish I could participate more but for now… I am just too time-constrained."
How about you? Do you have trouble coping with all the demands social media puts on your time? What do you do to avoid being a lurker? Any good advice?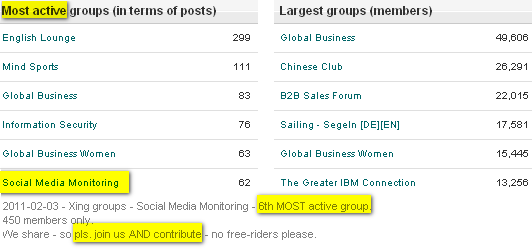 If you like this post, please share it with your friends. How about asking them to comment after reading, I love to hear what people think!
Are you with me on these trends? What do you think? Please leave a comment; the floor is yours!