Update 2012-08-11 – this original blog post has been cross-posted on "socialmediatoday – the world's best thinkers on social media."
ROI (return on investment)
Have the 2012 London Olympics lived up to their hype? Were they really THE social media event, as some predicted? Curiosity, NASA's latest mission to Mars, wins hands down!
Here is why…
The 2012 London Olympics were held from July 27 to August 12.
Sponsors and athletes
As early as June, Jamaican sprinter and gold medalist Usain Bolt tweeted a photo of a refrigerator full of Gatorade sports drink to his fans. Some Olympic athletes view the games as their best shot to land sponsorships. Nevertheless, one must be careful not to annoy followers with too many commercial messages when using social networks to interact with fans. Bolt followed this mantra better than the US team's Michael Phelps.
Risks for athletes?
Besides upsetting fans with too many commercial messages, the increasing use of social media at the Olympics has yielded some unsavoury results.
By the way, please sign up for our blog – get the trends that affect your business FIRST!
Greek triple jumper Voula Papachristou was expelled from her team after she tweeted comments about African athletes that were deemed racist.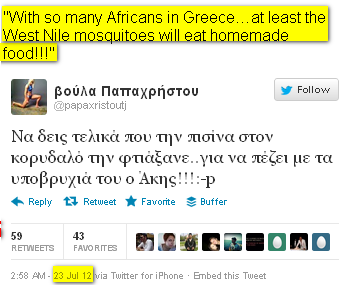 Swiss footballer Michel Morganellawas sent home for making racist remarks about Korean players after his team lost (tweet has been deleted, as has his account).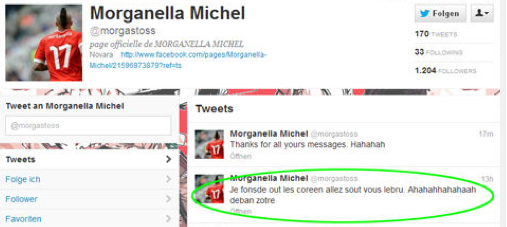 Others continue using Twitter and Facebook for relevant and not so relevant messages. The shot below was tweeted by Usain Bolt early Monday morning, after he won the 100-metre goldon August 5 at the London Games. Interesting? Maybe.
What do you think?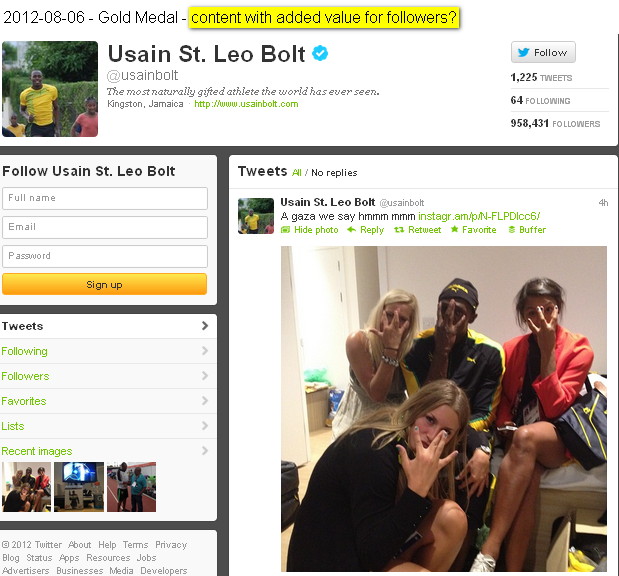 2012 Olympics online coverage: Great, average or a joke?
A visit to the Olympics' official Twitter feed will surprise you. Most tweets fail to add to the information available everywhere else (i.e. BBC and so forth). So where are the gems – the inside stories and snapshots – fans want to see?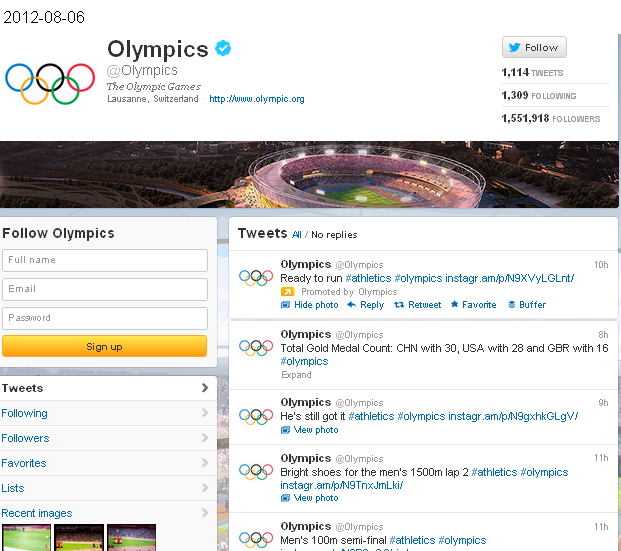 The challengefor those tweeting or posting on Facebook, Google+, etc. on behalf of @Olympics is two-fold:
a) any target audience should be narrow to add value for those who are interested (e.g., track & field fans do not want what swimming enthusiasts do), AND b) unless the content provides additional insights, tidbits or gossip beyond what is offered by mainstream news organizations, why should anybody care?
In fact, the Olympics' YouTube channel states, "To watch the Olympics Live in your country, please visit the list of London 2012 Broadcasters." Because broadcasters have purchased exclusive rights for their region, the Olympics YouTube may only show past events' video clips, such as this great clip from the Munich 1972 Olympic Games(Lasse Virén and Emiel Puttemans placing first and second, respectively, in the 10,000-metre race).
NASA's slam dunk
What a difference with NASA's social media efforts for its latest rover mission to Mars. NASA.gov – the social media hub of the US space agency – offers images, videos and interactive features. If the Curiosity mission interests me in any way, I can sign up for podcasts, videos or blog posts (or all three). Or I can follow it on Twitter, become a fan of its dedicated Facebook page or put it in one of my circles on Google+.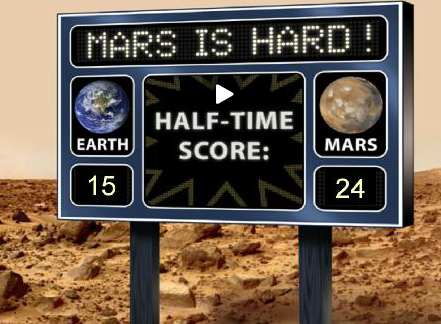 Bottom line: Two questions for YOU
It seems that any organization must answer two questions:
1. Which target audience(s) do we want to reach?
2. What kind of content represents added value for our target audience(s) on Twitter, Facebook, YouTube, blog, podcast channel, etc.?
Accordingly, these two cases – Olympcis 2012 versus NASA – illustrate that NASA's launch of a dedicated channel for each upcoming mission makes it a texbook case for how narrowing your focus empowers you to provide stakeholders with content they feel adds real value (i.e. as a result customers/taxpayers give your content the time and attention necessary to consume it). NOT following NASA's strategy explains why social media failed to make a mark at the London Games. Finally, one key performance indicator(KPI) for commercial messages sent by athletes on behalf of their sponsors is whether they affect my shopping habits – unlikely. Meaning the value of such social sharing is questionable, since it also carries the potential risk of consumer backlash.
Tip: Search for more ComMetrics and CyTRAP sources on ROI, KPIs, benchmarks and measurement of social networking efforts (click to query).
---
The author: This post was written by social media marketing and strategy expert Urs E. Gattiker, who also writes about issues that connect social media with compliance, and thrives on the challenge of measuring how it all affects your bottom line. His latest book, Social Media Audit: Measure for Impact, will appear in September, 2012 from Springer Science Publishers. Connect with ComMetrics on Google+ or the author using: Email | Twitter | Google+ | Xing
---