Almost three weeks ago we launched our ComMetrics blog checklist from CyTRAP Labs GmbH with
You can still look forward to
Today's post addresses the social media DOs and DON'Ts for companies that want to keep up with their engaged community, while using social media tools such as Twitter properly.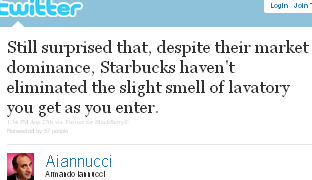 As the tweet by Starbucks' UK manager suggests, social media can be used in various ways to respond to clients. But is answering Armando Iannucci a good use of a manager's time?
What we do know is that having clean lavatories is part of good customer service.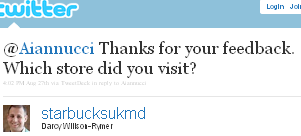 And when the men's toilet is broken, the women's toilet gets twice the usual traffic, and should therefore be cleaned accordingly.
While visiting the Starbucks in the Potsdam pedestrian zone last weekend, I noticed the men's toilet was broken and the one for women looked like a pigsty.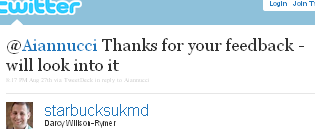 The above suggests that the toilet challenge is not limited to the franchise Armando Iannucci visited in the UK, but more widespread across Starbucks outlets.
Maybe instead of answering tweets, Starbucks' manager needs to institute a policy that ties performance-related rewards to keeping stores – including their toilets – up to acceptable standards.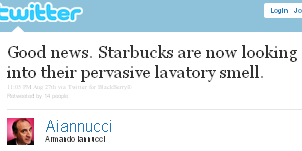 Responding to clients that may have smelled something off is one way to burn time while using social media. A better way might be enforcing proper policies to make sure such facilities meet sanitary standards expected of a place that serves food and beverages.
Resource: BP's Texas City refinery disaster suggests that plenty of regulation was in place, but the devil is in the details – enforcement and making sure…
2. Beware things could backfire
These days, the Internet and Web 2.0 can be unforgiving. Being cautious and having your mouth check in with your brain before making statements or off the cuff remarks is what we expect from media savvy CEOs.
Former BP CEO Tony Hayward saying on-camera that, "I'd like my life back," (see short video below) was the beginning of his downfall as the public was outraged by his remark.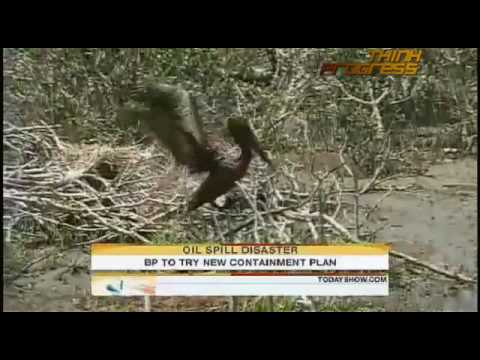 From now on, "I'd like my life back," will likely be one of the 10 social media flops included in any communications studies handbook or those offering cases on this issue.
Resources: 5 Digital PR Lessons from BP's Oil Spill Response
3. Never think your customers are stupid
In the classical sense, the communications department is dead. Accordingly, spending money on producing a PR-type video may backfire.
Ending a video produced to boost BP's image with, "We will make this right," was outright arrogant if not plain stupid.
In the public's mind it was impossible that paying for the clean-up could ever make the fact that BP had let the Deepwater Horizon oil spill happen 'right'.
Today's social media savvy customers no longer go for such schtick or smart comments.
Nor will UBS's video of its CEO trying to convince private banking clients that Swissness makes it special succeed:
Resource: How BP shrugs off negative reviews – or are customers stupid?
Don't miss our next post! Provide your email and get it delivered to your inbox first; you'll be glad you did.
4. Provide value or don't even start
As the Starbucks example illustrates and given that using social media is time consuming, focusing on critical matters is vital. Nor are a CEO's off the cuff remarks that raise the public's ire helpful. PR videos are useless if they are trying to make a company look good after it clearly made a huge mistake, such as allowing the Deepwater Horizon disaster to occur.
Online, such mistakes can result in a negative publicity avalanche. But if you decide to use micro-blogging or produce videos, make sure the content matters to the target audience.

Getting the latest information on Indian diplomacy is the focus of India's Ministry of External Affairs' (MEA) Twitter account. Its content did not impress some:
"The post-Tharoor MEA now sounds like a dumped girlfriend trying to make intelligent conversation," (see Tehelka – The upper lip Twitters stiffly).
If you cannot add value through a social media channel, it is unlikely to be used as a good and reliable source of information in a time when you need it most – trying to manage a crisis. India's MEA should take heed.
Resource: Focus on what matters to the bottom line during a dialogue
Take-aways
An effective use of social media can include gauging customers' opinions, but managers must develop a strategy, ensuring that it is simple and properly implemented to minimize time-wasting by answering customers' comments on Twitter or Facebook (see Apple has discovered that language can be simple and…).
Also, refraining from saying stupid things on TV or in a PR video helps, as the BP case illustrates.
Finally, offering a social media channel for bureaucrats to pass the time with useless tweets cannot be a smart use of scarce taxpayer revenue, can it?
What is your take, what worked for you? Please share your thoughts by leaving a comment below!