Recently you shared some LinkedIn , Xing and Facebook insights with your boss, but he was not amused. In fact, he said something to the effect of, "I think social networks are fun but I consider them pretty much useless in business."
So who is right, your boss or you, who spends 30 minutes on Xing or LinkedIn each day at work and in the evening? Are those 30 minutes a waste or a wise investment? Whatever the answer, can you back it up with data?
Below we address four critical steps to optimizing your use of social network sites.
1. What is the purpose of social network participation?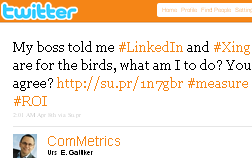 So what are we trying to accomplish on Xing or LinkedIn? Do we list our accomplishments on Xing to brag, and if so, why? Is it to convince a recruiter or headhunter that we are the candidate they need to fill a professional opening for a client?
What is it you wish to accomplish with your membership? It could be to connect with local associates or business people, or to share ideas and learn from others by joining relevant groups.
Whatever the purpose, one should go to the trouble of putting it on paper and revisit the issue about 60 days later. Only then can you assess whether it really is realistic to try realizing the previously chosen purpose.
2. What are my objectives for social network participation?
For instance, if your main purpose is to increase your network of associates and so-called weak ties, how will you determine your success or failure in realizing that purpose?
Never leave the race starting-block without clear and measurable business goals.
Of course, measurability does not always mean revenue. Nevertheless, focusing on cost-benefits is always a good place to start. To illustrate, why spend part of your day answering a question on one of the forums, instead of talking to a customer?
What are the costs (i.e. being less in touch with your clients) and how do they compare to the benefits (e.g., expanding the social network)? Will one more contact help clinch one more sale?
3. Leverage your group membership(s)
In one of his comments in the International Business Club group on Xing (main page), Helmut Lauff made two interesting points regarding convincing one's boss of the merit of social networks. Whenever doing a project, one can present the boss with two options:
I need the following resources to complete the project; OR
I suggest we use my network to find suitable options for positive resolutions to our challenges.
Any group that focuses on issues related to your job (e.g., social media measurement) represents a network where you may be able to pose a question and get reliable answers (see point 2). In turn, the crowd may provide valuable insights that can make a real difference (although crowdsourcing does not always provide a solution unless the crowd is very knowledgeable…).
While it may be difficult to measure benefits directly, our experience has been that it helps improve customer service, or as Tim Gier calls it, "a better chance of building customers for life as opposed to adding just a few extra sales in one weekend."
4. Where is my overarching set of metrics?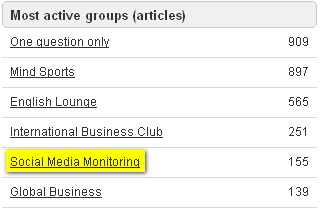 Metrics are personal, so a colleague may participate in several social networks that help build their personal brand, as indicated by increasing numbers of first-degree connections on Xing and/or LinkedIn, as well as Facebook friends and so forth.
This may be based on the number of added members to their social media networks and comments on posts made in Xing or LinkedIn groups within a 90-day time frame. But are those metrics right for you?
Unless you both have the same goals, your colleague's metrics will probably fail you.
Metrics are only effective for you if they are rooted in your own goals and, as importantly, tied to Key Performance Indicators (KPIs). Yes, once the findings are in, actions must be taken within 30 days – that will never change.
Questions that we should be able to answer with measurement and assessment include:
a) Who is reading your contributions and what are they saying?
b) How involved are group members and how quickly will your message spread as a result?
c) What did participation result in (e.g., traffic increases, purchases and/or referrals)?
d) How loyal are your group members, readers and fans? How likely will they return, continue participating and reference what you offer?
Take-aways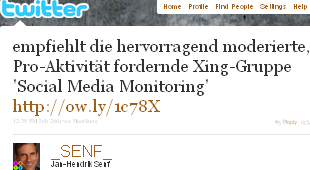 Telling a manager that the company got '10 favorable tweets' or '5 positive comments on Facebook' is nowhere near as valuable as the single tweet that recommends a specific action to others (see right).
Besides, we look for:
– optimization: establish a baseline so you know where you are starting from;
– supporting others means we are getting back:  only if you are visible responding to others' questions with thoughtful comments can you expect others to respond to your requests, give and take is the basis of social-exchange theory or if you do not give, don't expect anything back; and
– trend monitoring: watch trends and make comparisons with past results (e.g., April 2010 with April 2009), while taking the necessary actions to improve.
In order to properly measure your baseline and complete future audits that will yield good information, Key Performance Indicators (KPIs) must be agreed upon right away, and you must always verify references and data to ensure they are what they seem.
Beware potential fallacies in data, as pointed out by Tim Gier: "I think, though, that often the results that we can measure cause us to chase after goals that are actually at cross purposes with long term success, goals which are not worth having."
And if your boss likes you to use the words Return on Investment (ROI), please do. However, do not forget to focus on your KPIs and be clear about the metrics to be applied. This will enable you to present information that makes sense to your budget committee.
Let us not forget that learning about metrics and putting an effective measurement system in place is a process, not an event. As Amit Mahajan points out, the metrics we focus on may shift in just a few months. For instance, growing your connections on Xing or LinkedIn might be of interest in only the first six months. Next, you may want to focus on strengthening and getting closer to some of your weak ties. Finally, metrics used to assess the bottom line effects of social networking must focus on your particular situation and context (e.g., what is your business, how big is your company).
More resources
What is your take? What measures have you taken to arrive at actionable metrics that help you improve your effectiveness with social networks? Are you planning any new measures? Are there metrics you measure that we did not mention that you feel are more important for your situation? Please let us know in the comments!
You can get updates for this blog on Twitter by following @ComMetrics, get a free subscription by RSS, or get new posts via email:
Article source: ComMetrics – Recipe for success: Facebook, LinkedIn and Xing metrics
ComMetrics University – coffee break webinars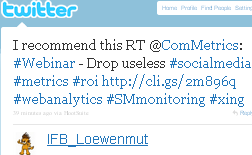 Webinars are held every Wednesday at 8:45 AM CET for no more than 20 minutes – the time you spend on a coffee break.
If you are quick you might still be able to join today's session (sorry over by now). Next week, we will discuss:
==> Managing corporate Xing and LinkedIn groups – recipe for success or failure?