Based on client feedback we recently launched the My.ComMetrics 2011 trend briefing series, consisting of 25 blog posts and 7 webinars about trends to watch and social media monitoring DOs and DON'Ts.
Our fourth post focuses on social networking and return on investment (ROI). We previously addressed the question, "who owns your social network (Facebook, LinkedIn, Plaxo, Xing, Viadeo connections) when you leave your employer?" and 2011 trends: Mobile communication and ROI outlined some challenges regarding the uptake of mobile Internet and how its use is hampered in some markets by lack of affordability.
We all remember the 90-9-1 rule, which states that ninety people read, nine people share and one person creates original content. In this blog post we propose the 900-98-1.5-0.5 rule.

People tend to join many networks such as LinkedIn or Xing, or put their CV online using a service like Ziggs. But things do not end there: staying active or updating information takes time.
There is nothing worse than finding a profile on Ziggs that lists the firm you left two years ago as your current employer.
Resources: 3 golden rules for best practice: LinkedIn and Xing
Trend 1: People want to save time updating. We will increasingly find content shared in the form of status updates get duplicated across platforms, such as Facebook, Plaxo, or Xing.
As a result, mobile apps that facilitate this duplication will gain popularity.
Tip 1: To keep followers interested, post different information on different platforms – DO NOT post to Facebook what you previously posted on Xing, and vice versa!
Get the next post in the My.ComMetrics 2011 trend briefing series first by entering your email address below – you'll be glad you did.
B. Engage and contribute to discussions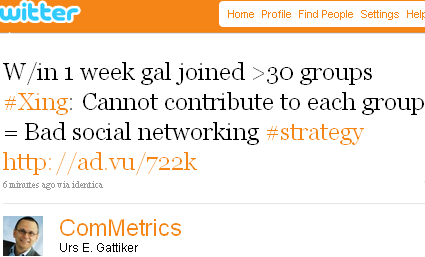 We have all previously crossed paths with someone once and never met them again. Accepting an invitation to join someone's network is one thing, but staying in touch is more difficult. Similarly, joining 20 groups is the easy part, but actually contributing to the discussions and staying visible is far more time-consuming.
So we need to manage our weak ties or group memberships in such a way that we can contribute and stay in touch while still getting our work done. And no, leaving a comment saying, "Great blog post, thanks," does NOT result in greater engagement.
Resources: Why social networking groups fail, Engaging comments: Where is the beef?
Trend 2: We all know the 90-9-1 rule, which states that ninety people read, nine people share and one person creates original content.
We propose the 900-98-1.5-0.5 rule, which states that 900 out of every 1000 people never see information in their inbox (e.g., Facebook email about new content) or RSS reader, ninety-eight people read it, one-and-a-half people share and only half a person creates original content (e.g., blog post or comment on blog post or mentions item in a discussion group on Xing).
Tip 2: If you cannot afford five minutes to contribute a reply to a discussion thread each week in each group you have joined, discontinue these group memberships and spend your time elsewhere. Put differently, do you want to be part of the 900 or more people who are basically dead-weight to the group's networking activities?
C. Rank and prune your social network connections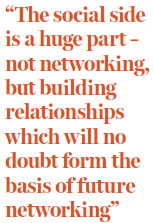 Categorize your social networks; I personally divide my contacts into five different groups:
1. The virtual network (Facebook fans, Twitter followers),
2. The knowledgeable ideas crowd (give you great feedback),
3. The support and coaching team (people you work with, trust and solicit advice from),
4. The rescue squad (people prepared to ride out a storm with you, so when push comes to shove, you can expect understanding and a quick – usually helpful – response), and finally,
5. The RECHARGE team (people you go skiing with, have dinner with, etc.).
Some people may never move beyond the virtual network, but it is categories two, three and four that can make a real difference in your career, while category five is necessary to maintain your sanity and quality of life.
The larger your network, the less likely you are to be remembered by network connections, unless you stay visible and in touch. Sending Christmas or birthday cards via snail mail was a highly successful way of re-connecting or reminding someone of your existence; now we need to adjust to the times by posting engaging content, whether comments or otherwise, to our social networks.
Resources: Social media ropes to skip: Twitter FAQ #4, Creating dialogue: Tweet or talk?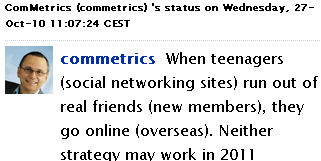 Trend 3: People will increasingly start questioning the usefulness of having many weak ties. Developing higher-order social ties by trying to work on their support and coaching team as well as the rescue squad will become the trend for networking-savvy social media pundits in 2011.
Tip 3: Move some of the connections in your Knowledgeable Ideas crowd to a higher level, such as the Rescue Squad. Use email and telephone to deepen the contact and improve these connections beyond the virtual network. Having fewer real and strong connections rather than many virtual connections is critical.
What is your take? How did your team develop your company's social media strategy? What was your path to realizing the strategy and was it timely? Did it work? What needed changing? Share, please and let us know in the comments!