Twitter Success Stories:
Are you ready for excellent ROI (return on investment) with Twitter for your B2B (business to business) or B2C (business to consumer) outfit? We tell you why so many micro-blogging efforts fail.
Others have said one should not dream about finding clients through Twitter conversations. What is your opinion? I outline why caution is important and what you can do to succeed.
1. Do not trust user numbers
By the end of 2009, the number of Twitter users reached over 75 million, with 6.2 million new user accounts every month. But even then, a large number of Twitter accounts were inactive: about 25 percent had zero followers and 40 percent had not sent a single tweet.
In March 2011, Twitter still stated on its About page that it had 175 million registered users, but only 56 million followed eight or more accounts. By that time, Facebook had 600 million users, all active at least once every month…
By February 2012 it was reported that Twitter boasts 50 million daily users. However, if 5 percent of accounts are responsible for 95 percent of all tweets, does this make sense for your business? Can you trust these numbers? We explain the problem below.
In the meantime, sign up like thousands of others to get our trend reports – before your competitors do:
[subscribe2]
2. KLM urban legends – Twitter is not scaleable
Twitter afficionado try to convince us that Twitter is great for sCRM (social customer relationship management) – except it fails in practice. One reported example shows the power of social media: a KLM passenger got stranded in Schiphol and complained on Twitter about not having any water to drink.
Within an hour, a KLM representative found and gave him a bottle of water. This kind of Twitter 'water courier' service is certainly not scaleable or logical.
However, the better customer experience means that KLM's flight does not get delayed or cancelled, either.
By the way, why wait an hour for water when Schiphol's facilities offer perfectly drinkable and FREE tap-water? If everyone whines about water, will KLM start employing hundreds of water carriers to patrol the departure lounge? Doubtful.
3. Guy Kawasaki is wrong – eyeballs don't matter
Guy Kawasaki is a really smart guy, and likeable, too. I recently watched another of his speeches where he pointed out that social media is all about eyeballs, and Twitter in particular. So I decided to do an acid test, and checked to see how many people click on Guy's links.
We collected about 100 examples but let me just show an average one for a day in February where he tweeted a link for his daily 'digital newspaper'. What a surprise, 70 clicks. Okay Bit.ly always understimates these links. Even if we double this number, only 150 out of about 500,000 followers means a click-through rate of less than 0.03 percent.
Is that impressive as a rate of engagement on Twitter?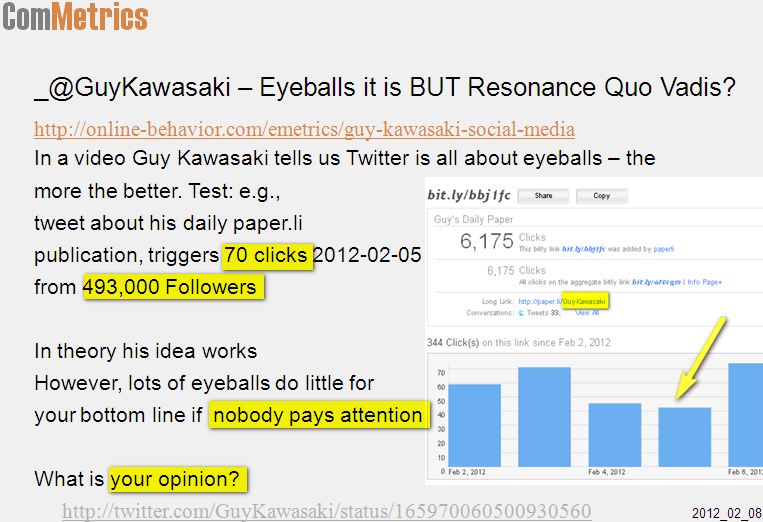 Of course, if those 150 people pay top dollar to attend another speech he gives the next week, this really matters. Put differently, 80 to 200 of my Twitter followers generally click a link. All I care about is that some of these people (eventually) use our software, read our blog, hire CyTRAP Technology Services in the near future, etc. Those who just want my news, I do not fancy that much because those people will likely never ever hire us, or use our benchmarking service.
4. Forget measuring your tweets' ROI
I love social media gurus that tell you to define your goals. But going on to write something like, Your goals should be achievable and measurable… Have realistic expections. After campaigns prepare your reports, is too vague and sounds a bit theoretical to me. You?
Yes, it works if you are a food truck or restaurant. To illustrate, if you want to limit waiting lines during rush hour at lunch, you can use Twitter to get your regulars in early to ease seating pressure for walk-ins. In return, offer them a beverage or dessert if they order before 11:30 or after 13:30. Is it measurable? You bet.
But what about if you have a carpenter shop or a firm with ten chartered accountants; will it work? Nope. Because I do not think you will get the kind of clients you want by tweeting a discount coupon. Do you?
Bottom line
Should you go on using navel gazing metrics or should you drop it all? Consider the above four points, be realistic and decide. I use Twitter to get information from those I follow, and share what I find interesting for my work. Nothing more, nothing less. Is it worth it? It is for me to learn, but to get clients? I do not know, but it is also not critical, because I did not begin using Twitter for this purpose, and I do not intend to start now. For me it is about intelligence-gathering and that I surely get with my lists.
Tip:
More about Twitter success, failure and having an impact – search (click to query).
Blog posts in category: micro-blogging and Twitter (click to query).
Are you with me on these trends?
Please share your thoughts below (click to write).
TL:DR
@ComMetrics writes about – Company failures: Why is Twitter so difficult? |
Tweet This
---
The author: This post was written by social media marketing and strategy expert Urs E. Gattiker, who also writes about issues that connect social media with compliance, and thrives on the challenge of measuring how it all affects your bottom line.
His latest book, Social Media Audit: Measure for Impact, is scheduled to appear from Springer Science Publishers in Summer, 2012.
Connect with the author using: Email | Twitter | Google+ | Xing