Please vote now: Social Media Marketing 2012: 'Mid-Year' Update – Biggest Challenges (grösste Herausforderungen)
---
Lesson 1: Differentiate or die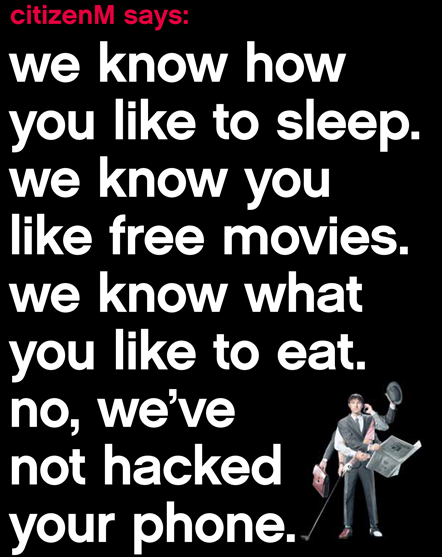 CitizenM hotels try not to focus too much on 'efficiency', but instead be a bit unique, cheeky in their advertising and offer clients something new to try.
Not easy to do when uniformity in hotel rooms is stiffles innovation, making things less unqiue – or as some might suggest, making consumers number and dumber.
By the way, please sign up for our blog – get the trends that affect your business FIRST!
What do you think, does citizenM differentiate beyond a slick advertising campaign? How good is it at using social media to help improve customer service? We recount our experience below.
Lesson 2: Usability – why graphic designers must speak with customers
Research says using dark letters on a light background helps people retain and better recall information. In this case it could be that the company decided to get our attention. What do you think? Is this easy to read… sure, it grabs our attention, but will we remember the message?
Lesson 3: Different service levels are BAD
I have pointed out elsewhere that customers do not understand why they get an answer faster on Twitter than by leaving a comment on the company's blog, customer forum or Facebook page (see My bank loves me! …Or not).
For the customer, which channel they use is completely irrelevant. Whether given the option to fill in a form, send an email or tweet to a service account, the customer wants their problem resolved competently and quickly.
Lesson 4: Does this social media activity improve customer service?
Sometimes I feel having a team of people worrying about Twitter or Facebook status updates to push traffic to the core website of the brand is a waste. Why not use these people by adding them to customer service, focusing on fine-tuning the level of service that you need in order to excel?
Put differently, how can you measure that your tweets or the various 'conversations' your team has with Twitter followers, or Facebook fans help to:
1. Improve customer services.
2. Stay innovative in order to differentiate your product/service from me-too copy-cats.
3. Help clients resolve their concerns or cries for help and support better than if they had used the phone or email instead?
If your actionable metrics do not show a link between the above and social media activities, how can you know it is worth it? Neither Like impressions nor pageviews will provide you with this information.
By the way, the company's social media officer cannot be engaging with clients on all social networks. Nevertheless, better not to be on Xing than have an incomplete profile with no activity.
Bottom line: THREE questions for YOU
The real issue hotel chains or managers face is differentiation of their product and making it less uniform and similar to others while offering good service, clean rooms and attractive locations at a fair price.
Great branding, good customer service and comparatively great value for money are all factors that get people to book a room with you. To make sure that social media helps you achieve these laudable objectives and improve the bottom line, three questions warrant careful attention:
1. Which target audience(s) do we want to reach?
2. What kind of content represents added value for our target audience(s) on Twitter, Facebook, YouTube, blog, podcast channel, etc.?
3. How do you know you are doing things right – audit your performance to improve.
If you cannot document the above so your boss sees the value you are producing, you are in trouble. Check out the free download if you want to know more:
More resources on this topic:
My bank loves me! …Or not
Company failures: Why is Twitter so difficult?
Social sharing and corporate content – does it have an impact?
Tip: Search for more ComMetrics and CyTRAP sources on ROI, KPIs, sCRM, Twitter, Facebook and 'customer service' (click to query).
---
The author: This post was written by social media marketing and strategy expert Urs E. Gattiker, who also writes about issues that connect social media with compliance, and thrives on the challenge of measuring how it all affects your bottom line.
His latest book, Social Media Audit: Measure for Impact, will appear in September, 2012 from Springer Science Publishers.
Connect with ComMetrics on Google+ or the author using: Email | Twitter | Google+ | Xing
---