Much has been written about how apps could help improve people's shopping experience.
This blog post addresses why not to rush out and develop your own app before doing some careful thinking about usability and usefulness and illustrates the concept with the Ralph Lauren RLX iPad app.
Get the next post by signing up with your email:
1. Apps must provide a utilitarian complement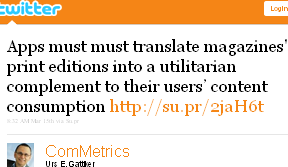 Apps (an abbreviation of software applications) have spread like wildfire across smartphones and iPad-like devices alike. They teach users new ways of interacting with technology, however this creates different expectations. Newspaper or blog content served via apps is now expected to be adapted for this new medium and a premium is placed on creativity and high levels of engagement.
The hard truth is that smartphone apps might work for some things, but not for others. Whether they work well for your product is the million-dollar question. Put differently, could an app provide a utilitarian complement to your blog readers' content consumption habits (see the iPad magazine stand)?
The difficulty lies in providing your audience with a complementary use of your product, service or content with an app instead of them visiting your website with their device's browser.
2. Killing time is a killer app
So what apps might work, you ask? Some say that apps that help kill time are most likely to succeed.
The News Corporation has launched the first so-called iPad newspaper, The Daily. As an app, The Daily uses Apple's subscription model (i.e. 30 percent of the revenue goes to Apple). Every new edition is automatically pushed to subscribers who pay 99 cents a week for the privilege (view The Daily latest edition).
It focuses on multimedia and social media content, pulling in relevant Twitter feeds and making everything shareable. As such it follows Arianna Huffington's credo:
The Huffington Post, also known as HuffPo, now bills itself as similar to a social network and The Daily tries to go the same route by offering readers the chance to share some stories via Facebook and Twitter and let friends view them on the web.
But if you read our blog, you know we do not provide multiple daily updates of gossip or news, and it takes time and concentration to craft what we share with you. Can this really be made user-friendly with an iPhone screen? Would you want to read it on your smartphone?
Maybe, maybe not. Whether the app would become a runner is a whole other question, because getting an app that provides your favorite sports results or celebrity gossip on your iPhone is a completely different kettle of fish.
– TV Guide and Business Week: Twins?
– Apple, Google and China: What you should know
– Results Report on Social Media Marketing – US and UK versions available
Apple's apps are part of a worrying trend – displacing the web with closed networks – but beyond this challenge, I don't foresee apps working for everything. While reading a newspaper on a smartphone is feasible, is it really convenient?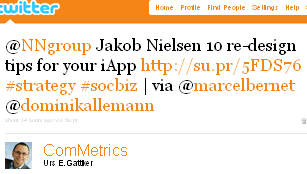 Instead, it seems the content must be re-created to be easy to use on my iPhone or similar device. Celebrity gossip may be fun, but other tasks cannot be easily accomplished while mobile. Usability is not the same as usefulness. Accordingly, great app usability thanks to design may not make it a success if users feel it is of limited usefulness.
Users may prefer using apps instead of having to surf the web because it is more convenient, but that in itself does not make the app useful. Besides, tablets offer enough usability for regular websites, so rushing into app development without a guarantee that it will help users kill time at work might not be the best use of your limited resources.
To illustrate, Ralph Lauren's iPad app allows the consumer to control the way images are viewed. For instance, blow into the microphone and a long dress will twirl live; tilt the iPad and it is like you are moving through a row of models in sporty attire.
The app is all about the luxury brand, but what kind of client will be willing to bother with slow-motion images, AND wave their iPad around just to see a pair of pants? Maybe not so much with the killing time, more like murdering it.
The Ralph Lauren RLX iPad app fails the acid test for good apps; watch it once and never again. Is this engagement?
Another tip: If you want to find more of our posts and white papers on this or any other topic, just enter a keyword and our name on your favorite search engine, such as usability ComMetrics.
Okay, here are the questions I have for you:
1. Should we develop an app for this blog or …?
2. What is your favorite smartphone app?
3. What would you advise anyone wanting to develop an app for their customers?
The comments, as always, are yours!