The My.ComMetrics 2011 trend briefing series, consisting of 25 blog posts and 7 webinars about trends to watch and social media monitoring DOs and DON'Ts, has addressed some of the pitfalls we need to watch out for in 2011, including:
Some people admit that their "…Google Reader is jam-packed with hundreds of subscriptions and hundreds or thousands of unread items."


Ending up in those people's inbox or RSS readers might get you a click, but not their attention. This could explain why 125,000 monthly pageviews do not make the cut with your boss.
Sign up with your email to get our next post first; you'll be glad you did.

We all know the 90-9-1 rule, which states that ninety people read original content, nine people share it and one person actually creates it.
Some time back we suggested the 900-98-1.5-0.5 rule: 900 out of every 1000 people never see information sent to them, ninety-eight people read it, one-and-a-half people share it and less than one person writes original content.
Fact: Just because you share does not mean people listen or take the time to read it (e.g., blog post, eBook, FAQ, etc.). Research by Dan Zarrella shows one daily status update on your company's Facebook page may be most effective.
Tip: Sharing (clicking Like on Facebook or tweeting about a blog post) is the exception and a person contributing a comment to a blog entry is a rare gem. Most importantly, every such engagement helps strengthen your brand and increases readers' trust in your content.
Also, context may limit applicability of some social media research to your company's strategy in this domain:
2. Limit your opportunity costs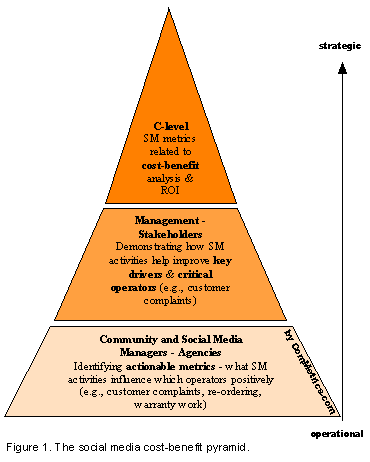 Applications come and go. A few years back FriendFeed was the talk of the town. Now the social media pundits have moved on and claim that we must use Quora to ride the wave.
Whatever you decide, figure out if you could be doing something other than answering questions on Quora to get a bigger bang for your buck.
Tip: Figure out what costs may be incurred by spending a lot of time on social media instead of visiting a client or giving a talk at an industry event.
Social media use is great, but you need to find the balance you can afford while still getting your 'real' job done effectively.
3. Give everything away for free
Most transactions have a downside. However, receiving something for free has little downside and artificially inflates the item's value.
Finally, while free is attractive it does not pay the rent at the end of the month.
Tip: The allure of free is attractive because humans are intrinsically afraid of loss, so giving away free eBooks or product samples is the first step in your marketing funnel and getting customer on board with 'free to use, but pay to play'.
Bottom line and take-aways
Getting 125,000 pageviews a month is certainly something to be proud of. Still, unless there is a link between pageviews and some key drivers/operating metrics, such as helping reduce calls to your client hotline or getting more leads that ultimately mean more sales, why should top management care?
While engagement is important, the 900-98-1.5-0.5 rule has taught us that eliciting replies or comments that add insight is not easy. But we should not get hung up on metrics like how many comments we get per blog post. Instead, their depth might be more important. Also, focusing on linking social media activities that build reputation and brand to critical operational metrics such as improving customer satisfaction is most effective for getting top management on the bandwagon.
If you like this post, please share it with your friends. How about asking them to comment after reading, I love to hear what people think!
Are you with me on these critical issues regarding actionable metrics and relating them to key drivers? Where do YOU see this going? Please leave a comment; the floor is yours!
And remember, rules of thumb beat golden rules every time…