The original story is below, while details about the updates can be found at the bottom.
Update 2011-04-06: We have added more information based on feedback we got in another discussion forum on Xing.
Since I was unable to attend every session of the Geneva Forum on Social Change (GFSC) held April 1 – 2, 2001, and we have insufficient space to cover everything of interest, my conference report is only a personal view.
Rita Kaali called my office on Thursday evening, asking me to fill in for social media-savvy Matthias Luefkens, who was unable to attend Panel 4.
24-hour preparation – crowdsourcing to the rescue
With so little time, I felt the need for crowdsourcing to help me address some of the issues likely to face our panel. The first article that influenced my thinking came via email from Beth:
Meanwhile, Rita Kaali sent:
The articles sensitized me to potential conflicts arising from cause marketing, but I also wondered how these issues would play out in Europe with corporate folks. So I launched discussions for input from knowledgeable individuals:
If you want to beef up on social media issues, why not sign up to get our weekly posts sent direct to your inbox:
Incidentally, we often forget to clarify that company size, and geographical location, including culture, are important issues in these matters. For instance, according to the European Commission, micro, small and medium-sized enterprises are socially and economically important; they represent 99 percent of an estimated 23 million enterprises in the EU and provide around 75 million jobs, representing two-thirds of all employment.
By the time I boarded the 06:04 train in Zurich to arrive in time for final preparations in Geneva, I had received more input from the Americas and Asia. I used the trip to summarize the material:
– Social media's failed acid test: Pakistan disaster response
– 5 critical steps for reputation management
– Toyota: How to commit brand and reputation suicide
– ComMetrics – How BP shrugs off negative reviews
– What do BP, big banks and Putin share?
Due to space limitations I focused on the second of two excellent sessions. This one addressed social media matters in the context of communication by international organizations. Speakers included:
A variety of important insights were shard and discussed with the audience.
1. Social media can be a fantastic gateway to the media – for international organizations it is a great way to reach, interact and engage with the public.
2. Social media is making the public part of the conversation, where traditionally, they may not have been.
3. Don't treat social media separately – integrate it as part of your overall communication strategy.


The cases presented by the panelists perfectly illustrated these issues.
Panel 4 – Social Media and the Business Community
We spoke about various things, including how to raise money for good causes the fastest using social media: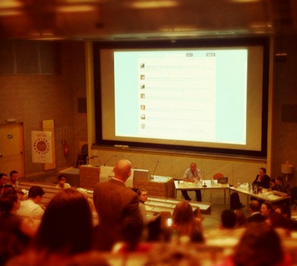 1. Start with a strategy.
2. Be clear about your audience, their values and wants.
3. Set objectives that can be measured with SMART metrics.
4. Spell out tools and approaches.
5. Measure success and ensure you can clarify why you do something in case of 'so what?' instances.
6. Take actions based on your progress to encourage improvement.
Some of us tweeted during the sessions, such as @geoffliving (a.k.a. Geoff Livingston), @PeterDublin (a.k.a. Peter Conlon), and @CDN (a.k.a. Christian de Neef).
Conlon pointed out that for large organizations, there will often be a greater willingness for support if the cause can be linked to products, image and reputation. De Neef drew from his experience in organizational change due to the necessity of making social causes part of their DNA.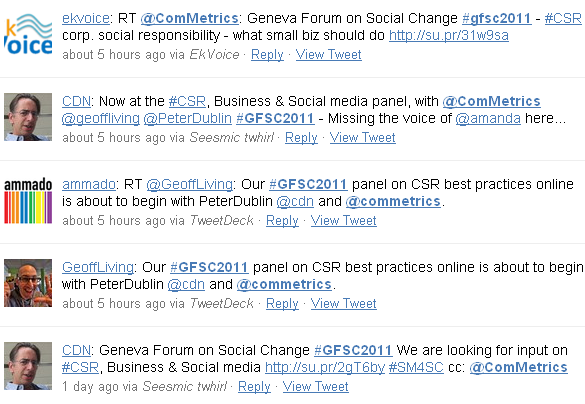 Of course, Livingston directed the action with panache, knowing when to provoke and when to rein in panel and audience members alike, while continuously fostering discussion. Every time I thought we might lose the audience, Geoff would come along with another question that got several people to the microphone to contribute or challenge the panel.
There was little that yours truly could add in such a brilliant crowd, but I learned a lot and felt privileged to be in attendance.
By the way, one of the interesting points I wanted to raise, but never got around to was that the group that was fastest out the gate to help Japanese tsunami victims was the Yakuza (third largest Japanese organized crime organization with about 10,000 'franchises'), which has its head office opposite the Ritz Carlton in Tokyo.
With little bureaucracy in the way, it just loaded some trucks and brought those in most desperate need the things they needed. And yes, social media played a role in showing the Yakuza what was lacking.
Of course, a criminal organization does not draw attention to itself, since that could result in another police investigation, so once government and non-governmental organizations (NGOs) took a more active role, they withdrew. Nevertheless, this flawlessly executed cause marketing does much to further strengthen its reputation with the Japanese public.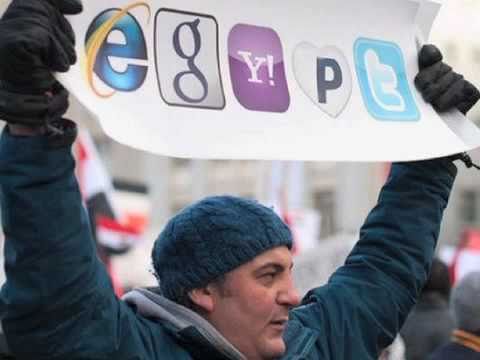 It was obvious that the organizers (students of the International Organizations MBA at the University of Geneva)  did an outstanding job of putting together this conference. Not only did things go smoothly (at least for attendees), but everybody was exceptionally friendly and helpful. The atmosphere was pure inspiration while the event neatly illustrated the many challenges still facing fostering social change.
As always, please add your thoughts in a comment below, and attendees, please add your thoughts and impressions, links and whatever I missed!
UPDATES
Update 2011-04-06: We have added more information based on feedback we got in another discussion forum on Xing.
As these comments indicate comments in the thread are very much focusing on "… a lot of customers don't always trust companies' CSR projects." Olga Henggi
Another interesting comment is:
"…while corporations engage in all sorts of "save the planet and help the hungry" projects, I see total absence of accountability. I see total absence of results their campaigns should bring about. Isn't it easy to claim that 3% of my glow in the dark bubble gum goes towards helping rubber tree growers in Thailand when of that 3% actually 98% go into cost of running that program ?
Quite frankly, I stay away from those promoting their "incredible planet saving activities" and concentrate on organizations that are in the business of helping and changing things. Exploitation is the word I'd use when it comes to heavily promoted "giving back to community".. Well, of course, there are always a few exceptions." Hans Mecker
I also thank everybody who has left a comment below to add to these discussions, just wonderful.  Why not add yours so you can be heard?