This post is about monitoring metrics to get results EVERY time.
Several weeks ago we launched the ComMetrics social media cost classification model (see also 2011 trends: The social media cost-benefit pyramid). Previous posts have addressed
We also outlined how to achieve better cost control of your Facebook activities as a whole and promote your brand on Facebook while staying on budget (watch another of our award-winning webinars and check out the slides). Now, we offer several posts that address the engagement issue:
Get the next post in our series about Facebook engagement, impact and ROI – and how to measure them – by signing up with your email:
Social media perception gap: We want benefits not engagement!
I recently read that Coca-Cola reduced its advertising spending in the UK by 6.6 percent during 2010, BUT seriously increased its social media spending, trying to tie activities to advertising and offline events and promotions. A consulting firm claims that
"…Social media is not just about campaigns or generating buzz around a new product launch. It can be used to engage with consumers on an ongoing basis in order to deepen relationships with a brand…"
I disagree. People want benefits, such as discount coupons, invites to special events, and sweepstakes, but they do not necessarily care about engaging with the brand. For business-to-business (B2B) businesses the truth might look even worse.
How do we understand the conversation?
We previously pointed out the importance of deciding which of the four potential areas your Facebook channel should focus on: marketing and sales funnel, customer support, customer relationship management, or just for fun.
Once management agrees on that, you have to agree on how the conversation will be measured. We suggest some categories and scoring.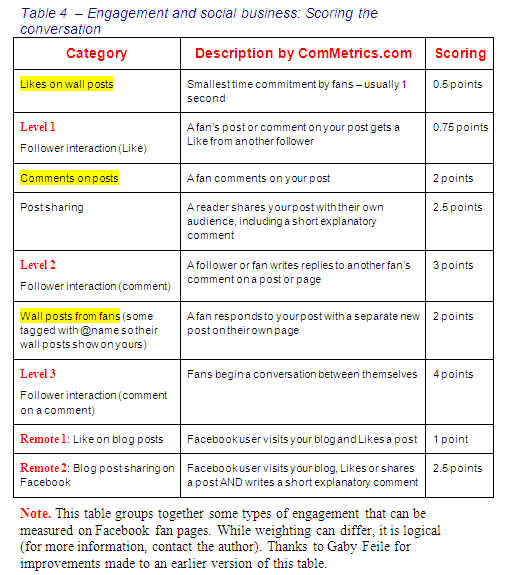 On principle you should try to compare Quarter 1 of 2011 with Quarter 1 of 2010 to avoid changes due to time period alone (e.g., numbers will likely vary between northern and southern hemispheres during July and August). It helps to look at data for each month and Quarter, while making a year-to-year comparison.
You may also divide the total number received (all categories combined or separate) by the number of posts on your Facebook wall during the period you are monitoring.
Tip: Use Facebook API to get stats via your browser window
http://api.facebook.com/restserver.php?method=links.getStats&urls=
Add the link to your blog post
http://api.facebook.com/restserver.php?method=links.getStats&urls=commetrics.com/articles/2011-engagement-metrics-3-social-media-marketing/
Hit enter and a link similar to the one below will appear – watch the five italicized numbers in the text:
…metrics-3-social-media-marketing/ 2 2 0 4 0 10150427961270307 0/
The numbers mean that this post had 2 Shares, 2 Likes, 0 Comments, Total so far is 4, while the Click count is 0.
To make this work, you have to define why knowing about Facebook Likes or downloads matters to you. As we pointed out last week, some measures we use, such as getting impressions for a Facebook story, are fine, but they focus more on exposure than impact (e.g., changing people's attitude about your product). In both cases you need to set an objective that is measurable:
Level 3 follower interactions (see Remote 1 in Table 4) per 1000 fans increased from 0.03 percent for every second Facebook Wall post in Quarter 3 of 2010 to 0.20 percent by Quarter 3 of 2011.
This might raise a second, 'so what' question before recommendations for action are made, and that is fine. As previously stated however, if we get more than two or three 'so what' responses in succession, we have the wrong metric and should therefore kill it.
Unless you monitor carefully, learning that Facebook for business might be overrated for yours is impossible – ensure conservation of scarce resources.
If you think you get something out of Facebook, check out
Okay, here are the questions I have for you:
1. How do you monitor your Facebook conversation?
2. What have you changed so far and has it worked?
3. What would you advise others regarding Facebook for business?
The comments, as always, are yours!