Several weeks ago we launched the ComMetrics social media cost classification model (see also 2011 trends: The social media cost-benefit pyramid). Previous posts have addressed
– the social business maturity model,
– how to achieve better cost management, particularly while maintaining a high-quality Facebook page, and
–  setting up a Facebook fanpage.
We also outlined how to achieve better cost control of your Facebook activities and promote your brand on Facebook while staying on budget (watch another of our award-winning webinars and check out the slides).
Your feedback has been so encouraging that we decided to tackle engagement in this ComMetrics weekly review.
Article source –Measuring Facebook engagement: What is good?
A consumer brand can offer exclusive deals and discounts to its Facebook fans, but if you manufacture trains or planes, giving away free samples probably will not work. So how do you engage your fans?
Well first we may want to define what engagement is, because most people who talk about it fail to define it:
– What is a good Engagement Rate on a Facebook Page? Here is a benchmark for you
– What is a good Engagement Rate on a Facebook Page?
The Oxford Dictionary defines engagement as follows:
noun
1 a formal agreement to get married.
the duration of an agreement to get married:
a good long engagement to give you time to be sure
2 an arrangement to do something or go somewhere at a fixed time:
a dinner engagement
3 [mass noun] the action of engaging or being engaged:
Britain's continued engagement in open trading
4 a fight or battle between armed forces.
As this definition shows, things are neither black or white. For instance, even an engagement to be married does not refer to a predetermined length of time. Accordingly, it all depends on the couple and their families to decide how long they will be engaged before getting married.
Sign up for our blog and get the next marketing update from Dr KPI first.

Unlike molecules in chemistry, engagement cannot be measured with precision or in a unified way, one reason being that it describes a whole range of applications and possibilities (for a great discussion on this see Jason Falls' January 2010 blog post – be sure to read the comments, too!).
We could argue that engagement begins when the customer contacts you, for example by leaving a comment on your corporate weblog. Accordingly, we must define the objective we seek to achieve with engagement on a blog or a Facebook page, whether
– building up an email database,
– getting feedback on a product,
– selling movie tickets, or
– solving customer problems, etc.
Each of these objectives requires a unique type of engagement, meaning that each social media campaign's results must be measured using different metrics (see upcoming blog posts on this topic).
Clearly, it does not matter what anyone else claims social business engagement through your corporate blog or Facebook page should consist of. Instead, it is critical for your organization to define the term within its own context:
1. Know what you is trying to achieve, and
2. Understand and agree how to go about reaching those objectives.
Larger organizations will differ in how this term is defined across divisions or even departments, but that should not be a problem as long as we understand and accept this reality of social business.
Based on this, we could define engagement as follows:
Social media engagement represents the action of engaging with others using computer-mediated communication tools. Engagement means establishing and sustaining relationships, while developing a level of trust that makes people comfortable enough to do business with you.
Continued engagement through social media could manifest in a 'conversation', such as a blogger replying to a reader's blog comment, or as a discussion of a user-posed question about or evaluation of one's product in an online community.
Bottom line
The challenge is that people need to believe that you can help them AND that you truly really care about them, as demonstrated in the Facebook comment below.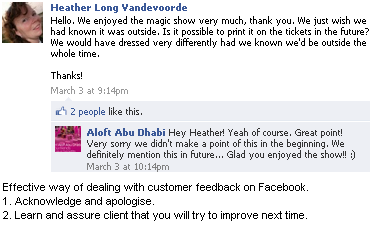 Nevertheless, if more than 1 percent of your 3 million fans provide helpful feedback like this, coping with such an onslaught will be a real challenge for your people. But you have to do your best, because no one will want to engage with through Twitter or Facebook unless they believe you care.
An upcoming post will tackle another challenge: What is your primary use of Facebook?
By the way, if you want to find more of our posts and white papers on this or any other topic, just enter a keyword and our name on your favorite search engine, such as ROI ComMetrics Facebook.
Okay, here are the questions I have for you:
– How do you define engagement?
– Does the concept have more merit than I outline here?
The comments, as always, are yours!