Two weeks ago we launched the ComMetrics social media cost classification model (see also 2011 trends: The social media cost-benefit pyramid).
The classic advice for the most effective use of Facebook is ensuring you engage your fans and participate in the conversation. Accordingly, using a Facebook Page to deliver a company sales pitch or trying to get your visitors to purchase something has always been ill-advised.
However, to ensure your Facebook page efforts pay off, you need to get a better handle on costs so you can spend your resources wisely, making it be easier to demonstrate how a Facebook page supports your company's marketing efforts, as discussed below.
Tip 1: Engaging content does not come cheap
Our previous blog post outlined how direct or indirect costs can be attributed to one of three categories – materials, labor and/or expenses or overhead. Moreover, we must identify the three critical tasks we want visitors to perform in order to determine how engagement can support this strategic objective.
For instance, a firm that offers consumers local searches if they need to find a dentist or bookstore may want visitors to conduct a search directly from its Facebook page. Therefore, when maintaining and updating the Facebook page, content has to relate to the primary product. For an engineering firm, this could mean a new ISO standard or regulation that will affect its clients' businesses.
As such, engaging content does not mean re-tweeting a Twitter post on your Wall. While this saves time, it is unlikely to elicit much engagement from Facebook users. Another good strategy is to send regular updates – similar to a newsletter – from the brand's Facebook page. You can do this by clicking on the 'Edit Page' link in the upper right; then clicking 'Marketing' on the left and clicking 'Send an Update in the box shown in the middle.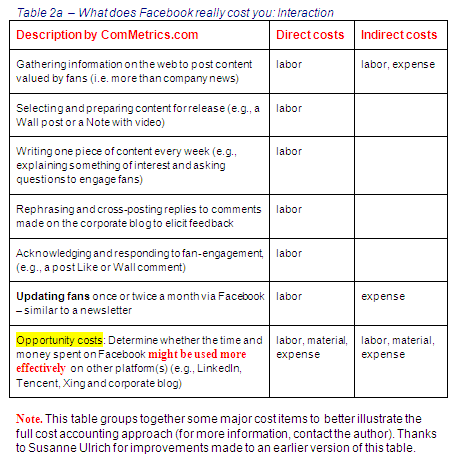 By the way, want to be the first to get the next Facebook cost accounting update? Sign up here:
Tip 2: Perform maintenance tasks early in the day
Remember that about 15 percent of employers block Facebook access, so new content must be posted early in the morning – preferably before 7:00 am – to catch smartphone users on their daily commute. Research shows that people are more likely to leave a comment or Like something if things are posted earlier in the day.
Additionally, Tables 2a and 2b demonstrate that it never hurts to compare the effort and resources spent on social media like Facebook to what it would take to prepare for a trade show, an ad in a newspaper and/or publish another corporate magazine. Enumerating any and all potential opportunity costs is practical and therefore very helpful.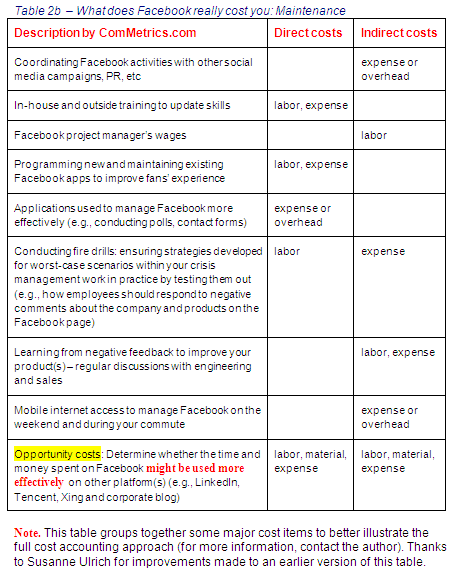 Table 2b focuses on things people tend to forget. For instance, Facebook changes from time to time, so staff may require a refresher seminar to acquire new skills  (e.g., correct privacy settings to disable geo-tagging). Also, besides having a crisis communication procedure in place, people need to learn how to effectively handle any negative onslaught – even on weekends:
Learning from negative feedback is critical, but necessary procedures must be in place to take advantage of such information (see Table 2a).
Another example is using polls to elicit feedback, while giving fans the chance to share their assessment of certain issues. Such feedback is rapid and invaluable, even though responding to it properly takes some time – crowdsourcing at its best.
Finally, it is not always clear whether costs are direct or indirect. For instance, if people already have mobile Internet to answer email, it might not make sense to charge direct costs for people using the service to work on fanpage, but noting an overhead charge might suffice.
Each company must decide such issues for itself to ensure the effort made to assign costs is not higher than the expense or material spent. Nevertheless, depending on where your company resides within the social business maturity model, costs will be more or less easily traceable (i.e. the higher up in the model you are, the easier it will be to trace).
Distilling direct and indirect costs can be somewhat tricky early in the social business maturity model, but keeping track of them is a must in order to show beneficial links.
Unless customers are avid Facebook users and will go there to find out about the company, having a corporate blog and investing quality content there might be a better use of time and resources than a fanpage.
We have also found that putting some material in a note geared to elicit feedback with a link to the original blog post is an effective way to share blog content. In fact, using RSS grafiti, Social RSS and Networked Blogs to feed blog posts into a Facebook page elicits little – if any – conversation.
Okay, here are the questions I have for you:
1. How are you keeping track of the time and costs incurred to keep your Facebook page updated with interesting content for your target audience?
2. Are you sending updates to your fans to keep them informed and, hopefully, more engaged? Does it work?
3. Have you tested your communications crisis procedures for Facebook?
Please leave your answers in the comments section, and as always, thanks for being a part of our community!