We discuss four simple ideas to improve your social customer relationship management (sCRM) efforts in less than an hour.
Some widely-used indicators of whether anyone cares about the subjects of your tweets include:
– number of retweets,
– number of replies, and
– number of unfollows.
Of course, all of the above are examined over a period of time. Below, we outline how to get off to a good start to becoming your in-house metrics guru, without a big budget.
Get the next post by signing up with your email:
1. What is the purpose of using social media?

Zurich's Claridge Hotel's social media efforts must serve both local and out-of-town guests. Except wanting value for money, both groups' needs differ, whether that be a quiet room or the right ambiance for a client lunch.
Nevertheless, two questions seem paramount:
a) Does Twitter and/or Facebook help you connect with current and potential clients? and,
b) What type of content do clients crave (like is not good enough)?
Claridge has 206 followers and follows 352, but the million-dollar question is, do people care what the hotel tweets?
2. Doing better for our target audience
Over several weeks, I realized that most tweets (also found on their Facebook page) are about the Claridge's daily lunch specials and its iApp has only limited success (see also Android outsells the Apple iPhone at least 2:1 and Why do some apps fail?).
By the way, while 30 percent of iPhone app buyers use it the day of purchase, analyzing over 30 million downloads from Apple's App Store reveals that only 5 percent continue to actively use the app 20 days after downloading. Moreover, only 3 percent of FREE apps are used 30 days after download.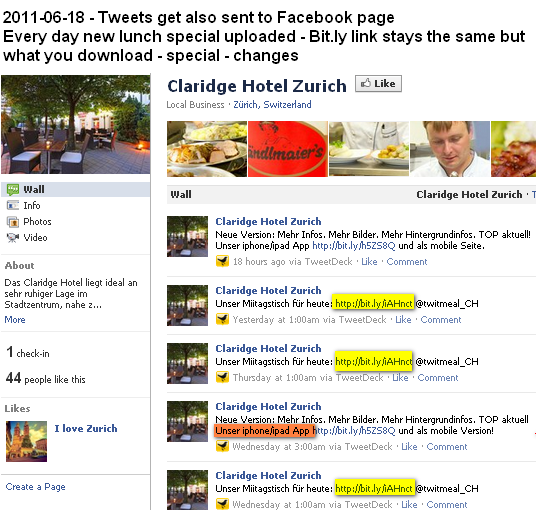 While the hotel does not have a dedicated YouTube channel, it does offer a video: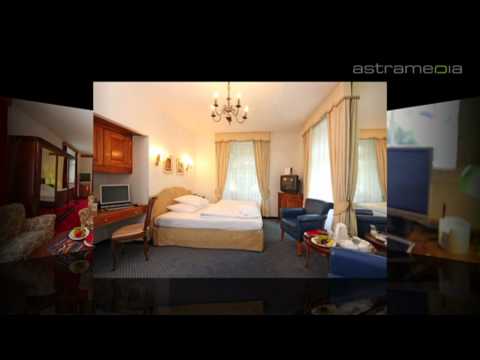 Let's put it to the test: Whose name do you remember after watching? Surely not the hotel's… It does not seem right, but I remember the ad agency's name. Please leave a comment below!
3. How well are your social media efforts working?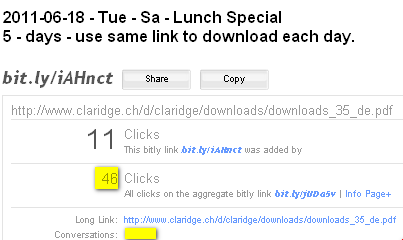 The company draws the human capital necessary for social media work from within, including a chef who tweets using Tweetdeck, illustrating how to leverage skills already present. A few simple questions reveal much about the Claridge's social media efforts:
a) Did the 46 people who clicked on the lunch special tweets (five) trigger more sales? Since people are not given a code to use at the hotel, we have no way of knowing without asking guests directly.
b) Did social media activity engender any conversation or engagement? A first analysis reveals basically zero on Facebook (i.e. no comments, Like(s), etc.) and not a single re-tweet.
Tip: To find out more about the tips and tricks we have provide on this blog about social media and more effective engagement include the words CyTRAP and ComMetrics in your search.
This illustrates the vital importance of stepping back and taking stock, enabling us to identify our progress and what requires improvement in social media. To benefit from your social media efforts, remember:
1. Know what you want to accomplish: Spell out your objectives, such as using social media to reduce customer complaints by 20 percent within a year, and ensure you know how to measure that (yes, you can).
2. Social media is pull-marketing: It works well if you want to interact and engage with your target audience. If nobody comments, Likes or replies to your posts, does anybody care? They might and tell you face-to-face. Make sure you record these responses, acknowledge their input (e.g., tweet about it, using @TwitterUser in your tweet), and learn and improve.
3. One size does NOT fit all: Unless your social media engagement responds to your customers' wants and needs, engagement will be dismal. Are you sure your Facebook fans appreciate seeing your lunch special every day on their newsfeed? How about posting a poll instead, asking them to vote for their favorite dish on the menu?
Remember that CyTRAP Labs can help. Start a conversation! Email us at info [at] CyTRAP [dot] eu or call us at +41 (0)44-272-1876.
More resources
Okay, here are the questions I have for you:
1. How did you take your baseline?
2. What insights did you gain from your baseline data?
3. What changes did you make after measuring your performance on Twitter or Facebook?
The comments, as always, are yours!
Watch the video and slides containing more resources and practical examples: