This week's social media measurement, social media metrics, ambush marketing and marketing buzz tidbits, tools and other happenings we came across, while surfing the internet, blogging and posting on Facebook or Identi.ca, Naijapulse or Twitter.
In case you missed previous weeks' memorable moments on social media monitoring, just point your browser to:
Don't miss the upcoming week! Sign up right now with your email to get the social media metrics insights first:
So here come the highs, lows and oddities I discovered through my various social media channels.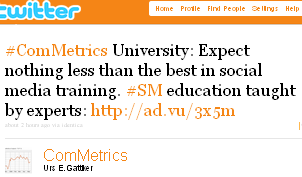 We were supposed to have another coffee break webinar entitled ComMetrics University – Turning social media metrics into money, but had to postpone it due to some unforeseen circumstances.
Researchers Steffen Huck and Brian Wallace tested respondents' decision-making using five different price frames. The study was conducted for the UK's Office of Fair Trading, Britain's main competition policy watchdog.
166 students from University College London participated in a controlled experiment, playing shoppers in a computer game with the following price scenarios:
1. "drip pricing", where only part of the price is revealed at first and extra charges are levied as the sale progresses (think of buying an airline ticket online);
2. "sales", where the price is contrasted with a higher price (was $2, now $1);
3. "complex pricing", such as three-for-two offers, where the unit price has to be worked out;
4. "baiting", where a cheap deal is advertised but restricted to a few lucky shoppers; and
5. "time-limited offers" that are available for a short period.
The study's findings indicate that consumers are suckers for 'special' deals that are costlier than they first appear.
Unfortunately, it appears most shoppers are vulnerable to being fooled when such price scenarios are used. Reading some of these findings provides some valuable insights for how to serve clients better while avoiding bad deals that negatively affect one's reputation for providing value for money.
The link below includes info about the press release and several pdf downloads. Invest ten minutes and check this out, you'll be glad you did:
=> Consumers are suckers for 'special' deals that may cost more than they should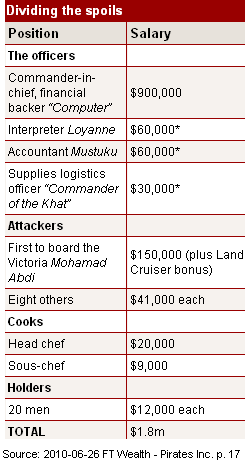 Risk management is an interesting topic, especially considering the current financial crisis and Greece's problems with refinancing its debt.
So when I came across this really interesting article about Somali pirates, I thought I needed to share this information with you.
Pirates Inc. describes a debt fueled economy with high stakes and risks for those participating in the looting. As with any pyramid scheme (see right), the real winner is the one at the top.
Considering the risks taken by those attacking the vessels, the pay for the person at the top is considerably higher than anybody else's:
1-2 percent chance of being killed,
0.5-1 percent chance of being wounded, and
5-6 percent chance of being captured and jailed abroad.
The article points out that the deadliest civilian occupation in the US is king-crab fishing, but on-the-job fatalities are 0.4 percent or 400 per 100,000 – a big difference to the 'attackers' of the Somali pirate gangs, those who carry out the hijackings.
=>  Pirates Inc. – holding vessels and their crews hostage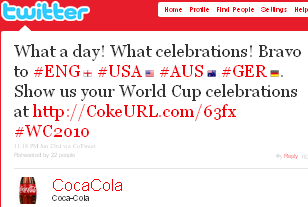 Sponsors have paid almost US$1.2 billion for the right to be officially associated with the World Cup and Coca-Cola is the 'chosen' 2010 FIFA World Cup South Africa soft drink sponsor. It makes use of its sponsorship deal whenever possible, including using product placement. For instance, during each post-game press conference, a few Coke bottles are strategically placed next to the microphones to be seen by a worldwide audience.
Last week, the company became the second brand to sponsor a 'trending topic' using Twitter's 'promoted tweets' to tap into online discussion about the 2010 FIFA World Cup South Africa. It saw 86 million 'impressions' or views of the ads in 24 hours at a cost of a few thousand dollars – sounds great.
But are these so-called impressions or 'eyeballs' really building engagement with the Coca-Cola company or its Coke brand? Here are some reasons why it might fail:
=> Twitter advertising and Coca-Cola – 2010 FIFA World Cup South Africa – will it work?
While FIFAcom – the official FIFA Twitter account – has suggested that we use the #WorldCup as the 'official' hashtag, many tweeters in the US prefer #WC2010. And others, like Mashable, refrain from using any hashtag for the event. Using the official hashtag adds a soccer ball to one's tweets: #WorldCup

– but not everyone likes that.
As well, trying to find Coke's 'trending' or sponsored tweets with the help of the Twitter search function or your favorite search engine requires patience and time. In comparison, it is much easier to find a TV spot on YouTube. Hence, Twitter has its work cut out to improve on this score. If one cannot even find these sponsored tweets, another opportunity to reach interested people is lost.
And NO, impressions and eyeballs do not automatically mean an advertising campaign has ROI (Return on Investment) or is a success.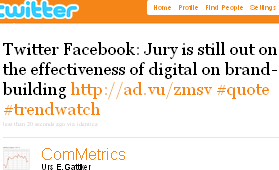 Carol Kruse, vice-president for global interactive marketing at Coca-Cola, has her work cut out to improve social media measurement and social media monitoring for Coke using Twitter and Facebook. Everything I have seen so far indicates that the metrics do not provide the information required to assess whether bottom line outcomes were reached.
Having more eyeballs see a logo or brand is nice, but does it help sell more product or foster more engagement… Can you see it? I cannot.
Additional resources
That wraps up this week's social media diary. Please let me know how you feel about it – your opinions matter to me!
Please leave a comment below.
Article source: ComMetrics weekly review: Coca-Cola crashes World Cup, pirates cause mayhem