About four months ago, Anita Rossel left a comment saying that she missed my weekly reviews about buzz and happenings in social media space. Then, last Thursday I got feedback from Deborah Drake basically saying that it was time to bring it back. Thanks to those readers, here we are.
We provided these reviews in the past, but stopped due to lack of interest. Apparently they were more popular than I thought, just in not-so-traceable ways.
In case you missed my memorable moments on social media from previous weeks, just point your browser to:

Don't miss the upcoming week! Sign up right now with your email to get it first:
So here come the highs, lows and oddities I discovered through my various social media channels.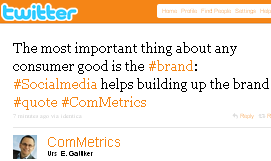 Last week everybody was talking about trust and price and how well global brands are emerging from the latest recession, mostly because the BrandZ report was published with great fanfare, including a special section in the Financial Times.
It provides a ranking of this year's 100 most valuable brands, but the real value of such rankings is not clear.
Read about issues that were raised about the report's methodology and other comments here:
With a little dashing and a great train system, I managed to join the 2nd Social Media Apéro Basel folks in time for a little after-work chat, which is becoming a regular monthly feature in my social media universe.
The neat thing is that its informal and cozy ambiance makes it easy to meet people from vastly different walks of life, whose only shared link is our love, if not addiction, to social media.  If you can join us, please register for the next social media apéro in Basel on Tuesday, 2010-06-15. This is your official invitation, so please mark your calendar.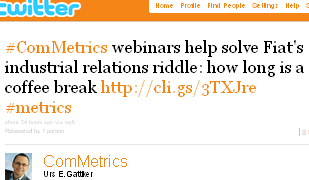 We held another successful webinar entitled Warren Buffett says: Social media can work for you.
Discussions revealed that Gillette has the potential to better leverage its advertising budget by embracing social media.
Others, like Thomann, serve as an example of how one can leverage an e-store by using more traditional means to back up online commerce with excellent customer service.
Discussing the customer experience life-cycle model illustrated that its application differs across products and industries. A company like Lindner (building components like house facades) would use social media differently than Gillette, of course. And My.ComMetrics.com – the benchmarking software for tracking your blog's performance – moderates this approach again to help improve customer experience.
Read some of the ideas, feedback and opinions in the social media monitoring group.
=> Want to influence the content of an upcoming webinar? Join the discussion!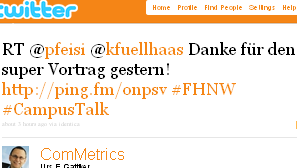 Another day, another perfect reason to go to Basel by train. FHNW offers a series of campus talks and that evening Karsten Fuellhaas, a public relations expert who has taken to social media like a fish to water, focused on why greater engagement is needed. It was a great presentation.
A short word about the FHNW campus talk series' unusual format: the evening starts with a half-hour apéro, after which one attends a seminar that usually features an expert speaker like Karsten Fuellhaas.
After the talk, things get really interesting. Delegates are given a set of three questions to discuss in small groups with a moderator in a bistro/bar atmosphere. A chime rings after 10 minutes, and everybody moves to another table and the next question. The only person who does not move is the moderator. Each moderator then summarizes the material and shares it with the whole group toward the end of the formal part of the campus talk session.
Why does that matter? Because people tend to gravitate toward people they already know during the apéro held before the talk. The discussions held after the talk give people the opportunity to meet different people, and gain exposure to vastly different but valid viewpoints.
After the formal part of the campus talk, people can try to reconnect to people they met during the discussions. More than once, this event has given me the opportunity to finally connect in person with people that I have known for some time on LinkedIn, Facebook or Xing (this also applies to the Social Media Apéro Basel).
=> What's your feeling, are such events important for you to get to know your social network nodes better? Could this explain some networks' success (e.g., Biznik being very strong in the Seattle area – people meeting offline)?
PARC in Palo Alto thinks we need help managing and making sense out of our Twitter feeds, so it is beta-testing two systems:
1. A recommendation system that ranks which posts a user is likely to find most interesting in a certain Twitter stream. Factors used include post content and the user's interactions with others.
2. A Twitter topic browser that summarizes the contents of a user's timeline so they can quickly survey what has come through Twitter without having to read through every post.
Expert Soenke Dohrn brought the above to my attention. What is your opinion? Will this help you better engage with 1,000 or 20,000 followers? Will it help you save time?
This weekend I had a chance to study a paper / blog entry about understanding the concept and measurement of word of mouth.
Based on the text provided, I was unable to figure out how these researchers operationalized their understanding of word of mouth marketing. Moreover, actionable metrics were not presented: for instance, the authors did not clarify how the higher and lower impact of word of mouth should be measured  (e.g., what kind of impact, how big and is this good or bad, etc.).
If McKinsey cannot explain how they measure word of mouth, what should we supposed do? Have any ideas you would like to share? Please leave your comments below!
After this rather discouraging McKinsey work, here is some good news for bookworms, though:
Almost 10 months ago we predicted that Google's eBook sales program would compete head-on with Amazon (Kindle) AND Apple (iPhone / iPad).
Now Google is just about ready to launch and the effect on consumers and SMALL booksellers could be as big as a tsunami's.
That wraps up this week's social media diary. Please let us know how you feel about it – your opinions matter to me!
Article source: ComMetrics weekly review: Highs, lows and oddities in social media