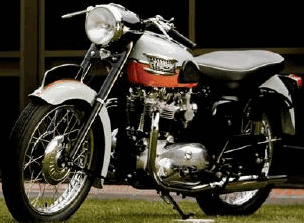 My main reason for writing these weekend reflection posts is to provide you with links of important insights I came across during the week while browsing the blogosphere. Some people call this short link blogging — often way fewer than 140 characters (a bit similar to Twitter).
In case you missed the last couple of weeks' best links for the week:
Very useful links: Insight versus hindsight for week 23.
Very useful links: George Soros to US Homeland Security for week 24.
Social Media TOOLS and GUIDES
– VERY Useful # WordPress 2.8 Plugin Compatibility Checker
– ALERT | Google launched community service volunteerism search engine – alpha version | tools2watch
– Good read – a week without Google Search vs. Bing – there done that #things2read
Social Media MARKETING BUZZ
– why Twitter does not matter for people in Iran – much ado about nothing
– VERY refreshing | You might be a cool blogger, but for product advice, people listen to their real life friends more |
– VERY INTERESTING | Will Digg Users Bury New Digg Ads System? #things2read #trends2watch by @simonowens
– VERY USEFUL from @kottkedotorg about Twitter litter why QUALITY MATTERS
– VERY HELPUL from @simonowens in response to @kottkedotorg s post – TWITTER LITTER =>  #trends2watch
Economic CRISIS AND POLICY
– YERY USEFUL defining ecological footprint ?…it is a resource accounting tool… 5m video #eco-footprint
– VERY USEFUL | US copyright holders form cartel with Google | what will US regulator do? #policy2watch
– Swiss National Bank – better international  framework required to regulate big banks more effecively in order to reduce systemic risks #bettergovernance
– VERY USEFUL => #OECD WG on Bribery reaffirming commitment to enforcing OECD Anti-Bribery Convention #bettergovernance
–  OECD secretary general Angel Gurria => video/interactive graphics =>the crisis will wipe out 3% of rich countries' output for ever –
==> get press material => the social impact of the global crisis is expected to be long-lasting #trends2watch

Trendwatch – WHITE PAPERS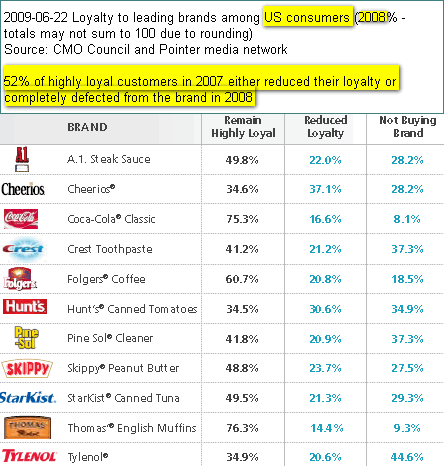 – #things2read – STUDY ONE Third of brand's most loyal US consumers defected from 2007 & 08. 07= 16% of all consumers or or 48% of highly loyal consumers remained highly loyal in 08 (see chart to the right)  ==> WORST is 33 % of these highly loyal consumers stopped buying the brand BUT purchased cheaper versions in the same product category instead.
– VERY USEFUL tables/charts – TRENDS EU27 tax ratio at 39.8% of GDP in 2007 = ca.12% > than US or Japan BUT this does not seem to have protected the region from the recession
– US 2009 State of the Nation's Housing Report = home equity > important to households than stocks – #trends2watch
– #things2read – download 2009-06-24 –  OECD Economic Outlook 2009 – Preliminary Edition – #trends2watch
– READING – Tweet, Tweet, Retweet: Conversational Aspects of Retweeting on Twitter PLS Comment #things2read
InfoSec
– Orwell watch NOT? – Nokia/Siemens Networks sold technology to IRAN BUT it does not allow the monitoring of data and voice on communication networks ==> Wall Street Journal failed to check its facts before publishing the wrong information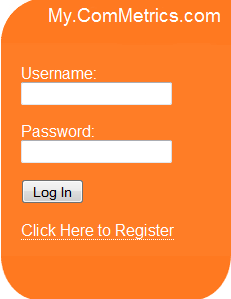 My.ComMetrics.com
–  1st My.ComMetrics.com instructional video uploaded on our ComMetricsLive channel on YouTube #things2view
To see how well your blog measures up using actionable metrics register your blog here:
My.ComMetrics.com – benchmarking your blog – sign up for FREE
Join our team – IT – be part of the excitement
More bookmarks: delicious.gattiker.name, or
Connect via: facebook.gattiker.name, friendfeed.gattiker.name, naijapulse.gattiker.name, twitter.gattiker.name
Okay, now it's your turn. What important links to insights discussed in a blog post this week did we miss? Please add it below. Thanks much.