CEO blog benchmark
Why are some CEO blogs boring?
——- What makes a CEO blog successful?
Corporate blogging – how to do it smarter.
Keywords: corporate communication, corporate strategy, social media marketing, corporate blog, CEO blog, CEO blog benchmark
By the way, do what 5,000 other subscribers have done, sign up for our blog newsletter – it is FREE!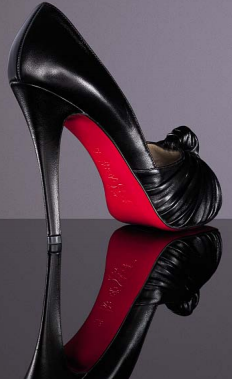 I previously wrote two posts about this: Before you start a corporate blog, tie your shoe laces properly, and social media – ropes to skip – c-level blogs – FAQ #1. At the time I was trying to point out some of the pitfalls to beware of when launching a c-suite kind of blog. Much has changed since then and social media has come a long way.
Nevertheless, blogging requires understanding one's target audience. For instance, what do high heels and cobblestone paving, and why women buy black high heels have in common with corporate blogging? Unless you deliver what your target audience wants, you will fail.
Below I outline three points every CEO or corporate blogger must remember.
1. How engagement works in theory
Engagement in advertising is often defined using the Cost per Engagement (CPE) model. Here, the advertiser will pay only when a user engages with an ad unit. Slight alterations of the CPE approach include:
tracking the time someone spends viewing your content,
recording whether they share the content,
tracking whether they visit your websites,
monitoring whether they start following you on Twitter.
Still, the biggest challenge is that no amount of promises will guarantee engagement.
By tracking the amount of time a person spends viewing an online video… or begins following the company on Twitter, you can quantify the benefits your company receives from a campaign. Looking at those benefits against your expenditures will give you a good sense of the efficiency of your campaign, allowing you to compare online lean advertising techniques with traditional media efforts. Teixeira, Thales (June 2013). How to profit from lean advertising. The Magazine, Harvard Business Review (available online)
Unfortunately, the above still may not give you the type of engagement you want. For instance, I might view a video for 13 seconds (YouTube counts a viewer as having viewed a video after only eight seconds), but then open another browser tab and do something else. Was this the type of engagement you were trying to achieve?
2. How engagement works in practice
Some CEOs such as Thomas Braunwalder of Magnetic Autocontrol (Germany) post something similar to press releases on the website and call that a blog. Unfortunately, commenting is not enabled, making it more of a broadcasting tool.
If comments are enabled, however, the challenge is to achieve that. In 2010 I proposed the 900 : 98 : 1.5 : 0.5 rule of social engagement:

900 of every 1,000 people might not even see your content,
only 98 might glance over it without taking the time to read it carefully (think 300 words) and then move on,
1.5 people might share it, but many people share things automatically without first reading the item, and
less than 1 out of 1,000 people who receive your content will take the time to create new content in response (actually, it's 0.5 people out of every 1,000).
Resource: 8 guidelines for fostering social media engagement
3. Making it work for corporate bloggers
So how do I ensure that the few people that want to join the conversation do so now, and possibly in the future?
In principle, engaging means joining the conversation in Xing / LinkedIn groups, replying to tweets, emails and so forth. But what else?
In a previous blog entry, I defined the term engagement as follows:
… Engagement means establishing and sustaining relationships…
Continued engagement through social media could manifest in a 'conversation', such as a blogger replying to a reader's blog comment, or as a discussion of a user-posed question about or evaluation of one's product in an online community.
For a corporate blog, engagement means getting readers to comment. Of course, everybody who comments wants to be heard and acknowledged with a reply and a thank-you note! How not to do it: Dr Tianyi (TJ) Jiang, Co-CEO of AvePoint lets the communication person answer when people complain about customer service on his blog. That comes across as unauthentic, no?
In most cases, comments add great insights to a blog post. Additionally, replies by the author or other readers will again enrich these discussions while making the content even more interesting to your reader.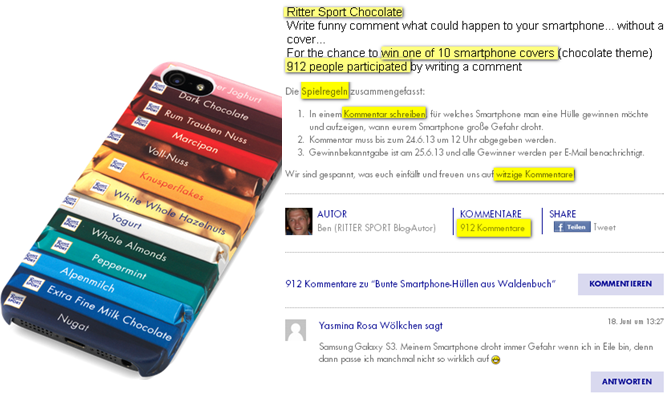 Resource:  5 corporate blogging trends
Conclusion – bottom line
As the above RITTER SPORT example shows, offering people prizes always gets attention. Crowdsourcing consumers to provide feedback for possible design changes to product packaging will get fewer responses. This is especially true in the absence of prizes. The result is that only die-hard fans and customers comment.
Here are three things to watch out for as a corporate blogger or CEO who blogs:
CEO bloggers will not want to run a sweepstakes. These are great for blogs whose content suits clients that are consumers but not industrial buyers (e.g., see RITTER SPORT). Moreover, your CEO probably does not want to be seen as pushing a product or brand down readers' throats, as some of these blogs seem to do.
Providing value with blog posts costs time. The better and more in-depth a blog post, the more effort it takes to write it – even for experts. So calculate 5 to 8 hours of writing, planning and so forth by the CEO personally for each post.
This may add more long-term value to the brand than any action on Facebook or Twitter by corporate bloggers, including CEOs.
Being authentic and personable is not scalable and cannot be delegated. Adding a thoughtful comment to a high quality post takes effort by the reader, so the CEO should answer. Asking somebody else to do it will not be acceptable to your readers.
Remember!
If blogging is done because of fashion or becomes a task and not a passion, the dreariness will also cascade into the writing. The result is another boring blog that lacks engagement! Case in point: Daniel L. Doctoroff, CEO and President of Bloomberg L.P.
Get more ComMetrics content on KPIs, benchmarking, metrics, key drivers, BlogRank (just click the URL to get some very interesting results).
More resources
Talk to me
If you are still inclined to have a CEO blog, be sure to respond to me from your own blog or in the comments on:
the benefits of CEO blogs, and
how to overcome the challenges I outlined above.
I look forward to your thoughts and comments below.
---
The author: This post was written by social media marketing and strategy expert Urs E. Gattiker, who also writes about issues that connect social media with compliance, and thrives on the challenge of measuring how it all affects your bottom line.
His latest book, Social Media Audit: Measure for Impact, appeared in November 2012 from Springer Science Publishers.
Connect with CyTRAP BlogRank on Google+ or the author using: Email | Twitter | Google+ | Xing
---