Is your favorite blog missing? Suggest the blog – we will track it for you
Should you trust fashion bloggers more than fashion magazines? Do they add useful content?
We provide three tips to help you successfully manage disclosure 101 in order to build trust as a fashion blogger.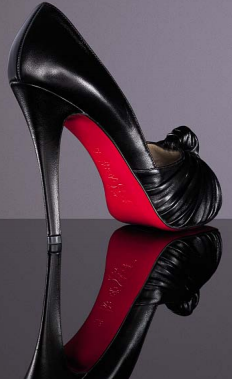 This post is the
first in a series
.
1. Fashion blogs: Is trust possible? (you are here)
2. Fashion blogs: What return on investment?
3. Fashion blogs: Are rankings useful?
4. Blog rankings: Does Milan work in New York?
5. More about fashion blogs and street-style
Fashion is much about style, feeling good and being perceived the way we want to be. In fact, women wear stilettos for a reason.
So, how do fashion blogs come into play when we consider how we dress? Some ways might include:
inspiration – what is cool, what might I like or use,
entertainment – enjoy some images and videos from the catwalk,
blogger with a similar style – relate based on shape, size, age, ethnicity, budget or any other factors you may have in common.
Nevertheless, fashion bloggers face various challenges, such as ethics and disclosure, that are addressed below.
By the way, sign up for our blog – it is FREE! Get the next installments of this series first.
Read also:  Welche Erfolgskriterien hat ein Fashion Blog
Are fashion and street-style bloggers independent?
First we should probably ask ourselves how independent any blogger really is (see graphic). Most fashion bloggers review clothing, cosmetics, shoes and so forth that they either purchased themselves or got as a sample from the designer, store, etc. In the latter case, independence becomes an issue that is neither black nor white.
Even if the brand does not provide samples of the product, the blogger might be invited to an exclusive event – all expenses paid, including a stipend:
Scott Schuman, The Sartorialist, will be in South Africa for Mercedes-Benz Fashion Week Africa.
If a blogger also becomes known beyond a smaller group or even famous, speaking fees can be a nice source of earnings (see Scott Schumann – The Sartorialist).
The above illustrates the fine line between being independent or not. This is especially challenging in cases where the blogger must generate revenue from their work. And even if one is only building a brand, the increase in visibility that may result from maintaining a blog could result in other work, such as a consulting gig (see grey box at bottom left in graphic below).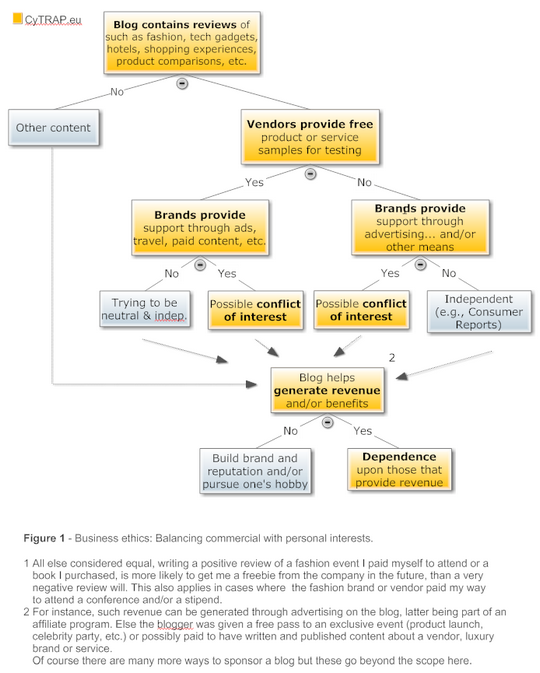 How to declare conflicts of interest on a fashion blog
In Blogging: The death of trust? I addressed the disclosure issue and suggested that a disclosure policy would help. Such a policy would make it more likely that your blog complies with US and UK regulations, which require that people reveal if they got paid to write a blog post or attend an event, or even got a free sample to review, as described in the US FTC – November 2008 guidelines.
Mr Schuman is one of the few people that carefully reflected about this possible conflict of interest when he started to accept advertising for his blog: The Sartorialist's Ethical Dilemma.
Conclusion
To avoid regulatory conflict and to keep your readers informed, consider the following three points when writing a blog:
Disclosure: Does your blog have a disclosure policy that meets US FTC guidelines and UK regulations (i.e. yes, I get free clothes from fashion labels, but I tell you that)?
The buck stops here: Is it easy for readers to find your name (person or organization), and legal address? Consider erring on the side of caution and following German regulations by including an Impressum or contact page on your blog, where you spell out who is legally responsible for your blog (i.e. company name or if it is a private blog your first and last name – no nicknames please), as well as the snail mail address (company's offices or your residence).
Transparency: Are you telling your readers about the freebies and goodies you receive? If you get paid to go to Johannesburg for a fashion show (e.g., your trip, accommodations, etc.), be open about it, for example by adding the information at the bottom of your post:
Disclosure

The blogger was provided with a free sample (e.g., camera, clothes) to test and review the product. This sample was returned to the company after completing this task (or kept by the blogger if applicable).

The author declares that they had no conflict of interest with respect to their authorship or the publication of this blog post at the time of publication.
More resources about fashion blogs, etc.
– Milan Fashion Week: Let's do the time warp again?
– Paris Fashion to organize Davos 2010
– Styleblogging – unreflektiert?
Google, Fashion, design, and luxury brands (just click the URL to query and get some very interesting results  – more ComMetrics content). Watch out for our next post on street-style blogging: Fashion blogs: What return on investment?
Please share your thoughts:
a) How do you address disclosure on your blog?
b) What advice could you give on how to handle possible conflicts of interest?
Thanks for sharing and helping me out.
Source: @ComMetrics | Fashion blogs: Is trust possible?
---
The author: This post was written by social media marketing and strategy expert Urs E. Gattiker, who also writes about issues that connect social media with compliance, and thrives on the challenge of measuring how it all affects your bottom line.
His latest book, Social Media Audit: Measure for Impact, will appear in 2012 from Springer Science Publishers.
Connect with ComMetrics on Google+ or the author using: Email | Twitter | Google+ | Xing
---