Things have certainly changed in the last 20 years, as growing numbers of women are rising to the top executive level and joining corporate boards.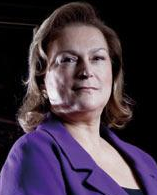 The FT saw fit to publish a magazine about the top 50 women in business. Using a panel of 'experts', inclusion in the list was based on such criteria as:
"…biographical data, size, scope and complexity of the company (including turnover and number of employees, number of sectors and countries of operations) and the competitive landscape…"
(2010-11-17 – FT Women at the top, p. 8)
The FT organized a Women at the Top conference, put Oprah Winfrey on the cover of the 2010-12-11/12 FT Weekend Magazine, and provided more coverage to address this popular topic, with the pleasant side-effect of generating revenue for the publication.
Learn what women's increasing participation in global economic growth and legacy of drivers of innovation means for corporate governance, risk assessment and managing public relations disasters.

1. Moving toward improved gender balance on European boards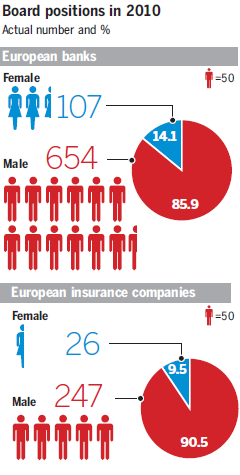 Women are still a clear minority on European boards. This may seem surprising since we recently had a debate about whether undue risk-taking by male-dominated boards may be partially responsible for the financial crisis. Would 'Lehman Sisters' have avoided getting into so much trouble?
Nevertheless, most of us agree that the advantages of diversity, including
– eduction,
– work and non-work experience,
– gender, and
– nationality and/or culture
can help boards draw from a broad socioeconomic spectrum, which makes succeeding in the global marketplace more likely.
This post is part of our series of 25 blog posts (2011 trendwatch and social myth busting briefs) and 8 webinars. Please enter your email address below to get the next post first in your email inbox; you will be glad you did.
2. Holding line-management positions is critical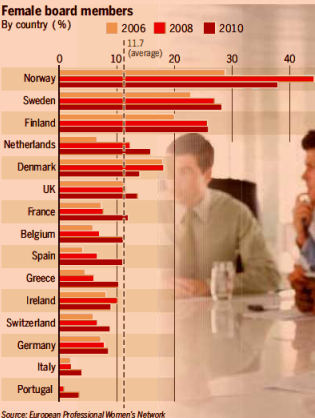 As indicated, women are still under-represented on corporate boards. For instance, men fill 85 percent of Fortune 500 board positions.
Research by the European Professional Women's Network (get report) indicates that on average, membership increased from 8 percent in 2004 to 12 percent in 2010. Another study suggests that this number ranges from 3.5 percent in Portugal to 31.9 percent in Norway and results in a European average of 12.2 percent (see below and full report).
However, Norway's 'golden skirts' as they are known in the media, have been criticized for being on too many boards, resulting in huge time commitments in addition to their full-time jobs.
Data also indicate that some women may get their board appointments from a key functional or service role, such as human resources, or from an external adviser role. This may encourage women to go this alternate route instead of accepting the line-management and CEO roles that are so valued when evaluating prospective board members.
Alert – please sign up for our next Trendwatch webinar: Luxury brands social media marketing on 2011-01-13, Thursday.
3. Governance and regulation that works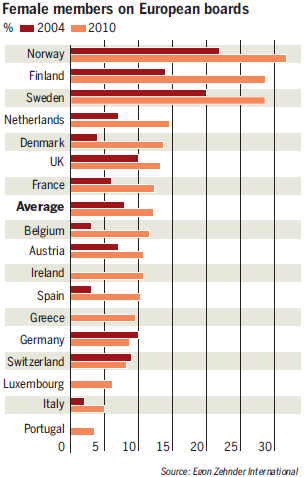 Governments can impose quotas regarding board membership as was done in Norway, but with lawyers to guide them, companies can also tip-toe through any thicket of rules and regulations.
While one can force companies to follow a regulation in the technical sense, that does not automatically mean their compliance will conform with the regulator's intentions, such as getting more women into line-management positions.
Vague requirements can be more effective in instilling a sense of caution. A good example of this and one well worth following is the UK Takeover Panel's approach of simple rules with an attached warning to companies and boards:
"…their spirit must be observed as well as their letter."
In this case organizations will be more cautious about feats of discriminatory contortions in top management positions.
Bottom line and take-aways
Promoting women to higher board positions by means of quotas works in Norway and public opinion also pressures companies to improve on this score. However, rebuilding trust also means that boards must better represent their various shareholder groups, customers and the public.
A "…voluntary, time-limited quota, whereby over 10 years companies fill board vacancies with female candidates until they reach at least 25 percent," seems useful. Nevertheless, getting women into more top line-management positions is most critical, as it will provide the experience so highly valued by investors when looking for new board members.
On average, serving on a board requires 15 hours of work every month. This time-demand could double or triple if one also works on important subcommittees, such as the compensation or risk management committee, or during an economic crisis. Accordingly, best practice may suggest that being on more than three boards is not to be advised and can therefore no longer be accepted as such.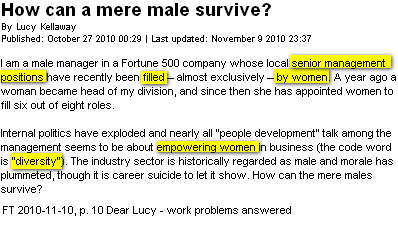 Finally, we are still a long way from men being in the minority when it comes to holding key management positions. More diverse boards and top management teams should help improve companies' risk management and governance. This will benefit employees, the public and shareholders alike, a real win-win situation.
If you like this post, please share it with your friends. How about asking them to comment after reading, I love to hear what people think!
Are you with me on these gender and diversity issues? What can companies do to increase diversity in top management? Please leave a comment; the floor is yours!