Almost three weeks ago we launched our ComMetrics blog checklist from CyTRAP Labs GmbH. You can find a list of all preceding posts in our first one:
We also previously addressed a few points about how to improve blogging effectiveness:
Today's post will be the last in this series and addresses the social media DOs and DON'Ts for companies that want to keep up with their engaged community while using a corporate blog to reach out.
Many companies start blogging with the best intentions, and then something suddenly causes them to give up, like British Telecom and Walmart's Check Out (see also Twitter).
Success in 2011 will require a clear strategy and commitment from management to see it through.
Recommendation: Answer the question, "What is the purpose of having a blog and what objectives do we want to accomplish within what time-frame?"
Trend: More companies will put a budget with a strategy behind their blogging activities, enabling them to show benefits.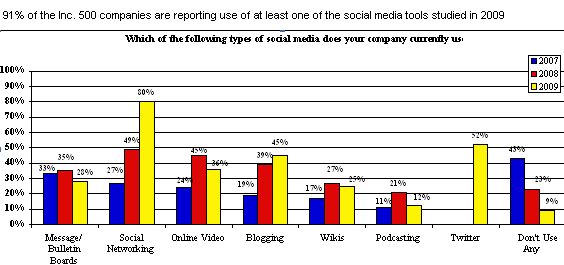 2. Don't put all your eggs in one basket
As the above chart indicates, Inc. 500 companies in the US have increased their use of social media.
As the many inactive IBM blogs illustrate, having employee blogs can be a challenge once an employee leaves. In fact, most blogs will then go dormant.
Blue Blog – Das Experten Blog by IBM Germany tries to manage this challenge by having a group of experts blog instead of just one employee.
Recommendation: Let a team commit to running and regularly contributing to a blog. When one member leaves the firm, find a suitable replacement to join the team.
Trend: Companies with a blogging strategy in place will be more likely to support and focus on group blogs, thereby succeeding in keeping their blog(s) vibrant over the long term.
3. Actions speak louder than words
McDonald's moved its social responsibility blog without informing its readers. Some readers were decidedly not impressed.
Nor is better engagement helped by a situation like Novo Nordisk's youth blog, whose has been 'imminent' for more than 24 months.
Recommendation: To keep readers engaged treat them with respect and keep them informed about possible changes.
Trend: B2B blogging will increasingly try to deliver quality content to specific client groups. For instance, by asking who influences the purchasing decisions for using energy-saving technology when building or renovating, one can deliver content that helps these people make the best decision.
4. Your social media efforts are not fashion – they should remain constant
I recently came across a new design that Gawker will introduce on most of its blogs within a few weeks (see image below).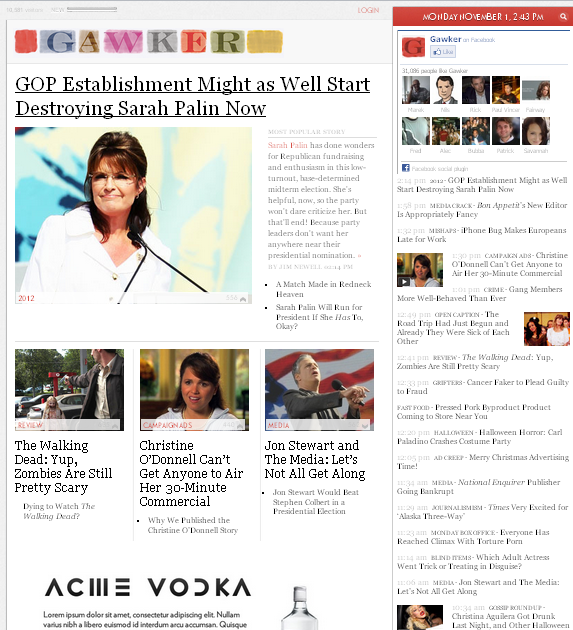 Recommendation: What works for Gawker and its audience of news-hungry teens may not work for your clients (e.g., corporate types versus aging hippies). Be careful not to throw out the baby with the bathwater.
Trend: Blogs will increasingly be challenged to offer readers visuals (e.g., graphics – a picture is worth a thousand words), as well as short video clips to keep audiences interested and engaged.
5. Don't try to measure what is immeasurable
One school of thought is to measure virtually everything, so if you cannot measure it, don't do it. This is the direct marketer method and without a doubt, it can work.
Nevertheless, media is difficult, if not impossible, to measure and bounce rate, pageviews (see Friday) or unique visitors will not tell you much beyond the obvious.
Recommendation: Measurement is an art, not a science. Do measure, but also watch the trends and make sure to get feedback from clients about what they like or dislike.
Analyze whether the comments you get (i.e. frequency and/or quality) meet your objectives.
Trend: Some companies will go ahead and risk their resources to score a home-run with their corporate blog(s).
What is your take, what engagement strategies work to improve your blogging effectiveness? What trends do you predict for 2011? Please share your thoughts with a comment below!
For more insights about these 5 trends, watch the video below: